Rice Research Station, Tirur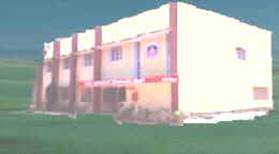 Rice Research Station was established in 1942 as Paddy Experimental Station at Tirur village in Thiruvallur District. In 1981, it was brought under the control of Tamil Nadu Agricultural University and in 1982 it was renamed as Rice Research Station. It is 1.5 km away South of Sevvapet Road Railway Station on the Chennai- Arakkonam broad gauge line and is 35 km away from Chennai.
Location particulars
Located at Tirurkuppam village in Tiruvallur district. It is located south of Chennai -Arakkonam Railway line and about 1.5Km from Sevvapet Road Railway station and 35 Km from Chennai.
Latitude : 13˚7'N
Longitude : 79˚58'E
Altitude : 39.47m MSL
Average rainfall : 1184mm
Maximum temperature (Mean) : 33.1˚C
Minimum temperature (Mean) : 22.5°C
Soil type : Sandy clay, Non-calcareous light brown, Medium fertile
Total area : 15.85 hectares
Cropping area : 12.00 hectares
Crops under cultivation : Rice, Pulses, Oil seeds and Green manures.

Objectives
To evolve high yielding and quality rice varieties suited to upland, semidry and irrigated conditions.
To identify the genomes resistant to Blast, Bacterial leaf streak, Rice Tungro Disease, Rice leaffolder and Rice black bug.
To produce breeder seeds in rice viz., TKM10, TKM11 and TKM (R) 12 and Groundnut TMV 7 nucleus / breeder seeds.
To evolve varieties resistant/ tolerant to saline, alkaline and coastal inland situations.
To develop Integrated Nutrient Management practices and Integrated Pest and Disease Management strategies.
To conduct OFT/MLT/FLD in Farmer's holdings.
To produce and supply ornamental plants, fruit seedlings and vegetable seeds for the Urban Horticulture Development Centre, Chennai.
To popularise equipments/ implements pertained to rice, pulses and groundnut cultivation among the farmers of Tiruvallur and Kancheepuram districts.
To cater the needs of extension functionaries and farming communities of both Tiruvallur and Kancheepuram districts.
RESEARCH ACHIEVEMENTS
PLANT BREEDING AND GENETICS

Varieties Year of Release
TKM 1 1950
TKM 2 1950
TKM 3 1950
TKM 4 1950
TKM 5 1952
TKM 6 1952
TKM 7 1973
TKM 8 1976
TKM 9 1978
TKM 10 1992
TKM 11 1998
TKM (R) 12 2002

TKM 6 attained global importance and widely used as elite donor in pest and diseases resistant programme.

Agronomy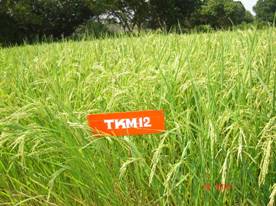 Growing blackgram in Sornavari (April-May), rice in Samba (August - September) and groundnut in Navarai (December - January) was found to be profitable in Tiruvallur and Kancheepuram districts.
Growing rice and blackgram in 4:1 was economical under rainfed farming in Samba season.
Summer ploughing followed by spraying of Thiobencarb @ 1.5 kg a.i/ha 8 days after sowing effectively controlled the weeds in rainfed rice.
SOIL SCIENCE
Application of phosphorous at 75% recommended level of STCR value either as DAP or Super phosphate along with Phosphobacterium and Azospirillum significantly increased the grain yield (15%) in irrigated rice.
Foliar spray of 0.5% ZnSO4, 0.25% FeSO4, 0.1% MnSO4 and CuSO4 on 20, 40, and 55 DAT along with basal application of Azospirillum and Phosphobacterium @ 2 kg/ha gave 20% increased yield in irrigated rice in all the seasons.
CROP PHYSIOLOGY
Rice entries were not able to survive at 12 dS/m salinity.
The yield reduction due to salinity ranged from 29 to 100 percent.
The grain straw ratio decreased from 0.58 to 0.23 amounting to 61 percent reduction, because of salinity.
Seed hardening agents viz., 1% solution of KCl, DAP, ammonium molybdate, calcium chloride, potassium dihydrogen phosphate and 10 per cent solutions of cow's urine and garlic extract enhanced germination, tillering ability and grain yield in TKM 11 and PMK 1 .
Irrespective of rice entries viz., TKM 11,PMK 2 and ADT 36 the yield was affected under mid-drought stress (55%) followed by early drought (44%) and late drought (11%) compared to control.
AGRICULTURAL ENTOMOLOGY
Rice planted in June increased the greenleafhopper activity which in turnincreased the RTD.
Spraying of Neem Seed Kernel Extract (NSKE) 5% and Ipomoea Spp leaf extract 10% at 10 days interval from panicle initiation effectively controlled the earhead bug damage.
A complete management practices were evolved for Rice black bug. Spraying neem seed kernel extract 5% or Acephate 625 g /ha@ 10% ETL was highly effective against rice black bug.
PLANT PATHOLOGY
Foliar spray of leaf extracts of Vitex negundo 10% or Prosopis juliflora 10% was highly effective for brown spot and grain discolouration.
Leaf extract of Aegle marmelos (Vilvum) 10% as spray effectively checked the leaf blast and neck blast in rice.
Seed treatment with Carbendazim (0.05%) reduce the Fusarium root rot in nursery.
Spraying Edifenphos @ 500 ml/ha at 30, 45 and 60 DAT was very effective for blast, sheath rot and leaf spot.
Combination of Streptomycinsulphate and Tetracycline @ 300 g/ha + Copperoxy chloride @ 1250 g/ha at maximum tillering stage effectively controlled the bacterial leaf blight and bacterial leaf streak in rice.
PLANT CLINIC CENTRE
Plant clinic centre (PCC) scheme is functioning at this station since 1986 with the following objectives:
Identification of field problems and suggesting suitable remedial measures by making regular field visits and joint field inspections.
Conducting Off/On campus training programmes.
Imparting training on latest techniques to farmers and extension workers.
Pest and Disease surveillance meetings.
Imparting training on Oyster and milky mushroom cultivation to unemployed youth and farm women
Dissemination of technologies through mass media.
Publication of popular articles in newspapers and farm magazines and distribution of extension literatures.
Transfer of latest farm technologies through monthly zonal workshops.
Adoption of villages under TNAU-IVDP in which the farmers are motivated to adopt the proven technologies

AGRICULTURAL ENGINEERING
Popularised drum seeder,groundnut decorticater ,parboiler and ridge former

Ongoing schemes
Sl. No.

Title & Project No.

Scientists involved

Location of the project

Date of start & completion

Sponsor

Budget (Rs. in lakhs)

1.

Plan scheme on Physiological studies on salt tolerance and development of rice varieties tolerant to coastal and inland salinity

Dr. S.Banumathy,
Asst. Professor (PBG)
Dr.M.Gnanachitra
Asst.Professor (Agrl.Micro.)

RRS, Tirur

2007-11

State Govt.

3.98

2.

Seed production of rice, pulses, oilseeds, vegetables and flowering ornamentals

Dr. S.Banumathy,
Asst. Professor (PBG)

RRS, Tirur

2003-09

TNAU, Coimbatore

1.00
Externally funded scheme
Sl. No.

Title & Project No.

Scientists involved

Location of the project

Date of start & completion

Sponsor

Budget (Rs. in lakhs)

1.

Management of insecticide resistance in Helicoverpa armigera in groundnut

Dr.E.Sumathi
Asst. Prof. (Ento.)

RRS, Tirur

2007-09

DST,
New Delhi

6.18
II. b. Ongoing sub projects
Sl. No.

Title & Project No.

Scientists involved

Location of the project

Date of start & completion

Sponsor

Budget (Rs. in lakhs)

1.

TRRI/TKM/PBG/06/004 Nucleus /Breeder seed production of paddy varieties.

Dr. S.Banumathy,
Asst. Professor (PBG)

RRS, Tirur

April, 2006 to
March,2009

Non-plan

-

2.

TRRI/TKM/PBG/07/005 Evolution of short / medium duration quality rice varieties with resistance to blast and Rice Tungro disease for the NE Zone of Tamil Nadu.

Dr. S.Banumathy,
Asst. Professor (PBG)

RRS, Tirur

December, 2006 to November, 2011

Non-plan

-

3.

TRRI/TKM/AEN/05/004
The compatible plant products and bioagents in the management of rice black bug.
Dr. E.Sumathi
Asst. Prof. (Ento.)

RRS, Tirur

June, 2008 to May, 2010

Non-plan

-

4.

TRRI/TKM/AEX/06/001 Rice cultivation in Thiruvallur District - An analytical study.

Dr.M.Nirmaladevi
Asst. Professor (Agrl.Extn)

RRS, Tirur

April, 2006 to
March,2009

Non-plan

-
Significant findings/policy recommendations made by the station
I. Crop improvement
a. For adoption : Nil
b. For OFT/OST: Ni
c. For information: Two promising quality rice cultures Viz., TM 05015 (ADT 43/PS III) and TM 05091 (ADT (R) 45/Co47 were nominated for MLT-QR-E and another culture viz., TM 06235 (ADT 39/BPT 5204) a medium duration quality rice culture was included in MLT-QR-M during RSM, 2008.
II. Crop management
a. For adoption: Nil
b. For OFT/OST: OFT: Fertilizer scheduling for pre-release cultures under irrigated and rainfed system.
Treatment details
Cultures
C1 : CB99019
C2 : AD 01260
C3 : AD 01246
C4 : AD 99039
Fertilizer Schedule
F1 : 150 : 50 : 50 Kg NPK/ha
F2 : 175 : 75 : 75 Kg NPK/ha
F3 : 200 : 100 : 100 Kg NPK /ha
Grain yield
Among the different cultures tested, Culture AD 01246 gave significantly higher yield than other cultivars which was followed by culture AD 01260. The culture CB 99019 recorded the lowest yield.

The grain yield was significantly increased with each increase in fertilizer level up to 200: 100:100 Kg NPK /ha in irrigated condition. The interaction effect was also significant between cultures and fertilizer schedules.

Farm advisory Service
FUTURE THRUST
Breeding programmes to evolve drought resistant short and medium duration rice varieties suitable for upland and semidry conditions.

Breeding programmes to evolve blast, RTD, leaffolder and black bug resistant varieties.

Collection and maintenance of rice germplasm to study the biotic and abiotic stresses.

Studies on agronomical methods to combat drought and to reduce labour drudgery in rice transplanting and harvest.

Studies on rice crop and management of nitrogen fertilization through biofertilizers in irrigated, upland and semidry rice.

To evolve rice varieties tolerant to saline environment through salinity induction response (SIR) technique.

To find out effective and economic management practices for major rice pests and diseases through integration of botanicals, biocontrol agents, cultural and behavioral approaches.

To study the occurrence of RTD causative factors responsible for epiphytotics and to evolve suitable management practices in rice with special emphasis of varietal resistance
Contact :

Professor and Head
Rice Research Station
Sevapet Road
(Near Thiruvallur)
Thirur - 602 025.
Phone No : 044-27620233
Fax No: 044-27620383, 044-27620705
e-mail : arstirur@tnau.ac.in