Chilli Seed Extractor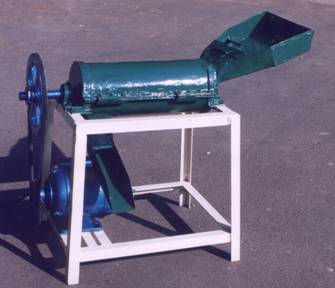 1. Function : To extract seeds from dried chilli.
2. Specification
(a) Overall dimension : 925 x 630 x 1040
(L x B x H, mm)
(b) Capacity : 4 quintals/ day
(c) Power required : 0.5 hp electric motor
3. General Information
It consists of a hopper, extraction chamber; rotating beater assembly on bearings with suitable drive connects. The dried chilly fruits are macerated into small pieces without cell rupture and thereby the seeds are separated from the unit.
4. Cost of the unit (approx) : Rs.22, 500/-
5. Cost of operation : Rs.6/h
6. Salient features
Continuous type.
Minimal scorching and pungent smell to labourers.
Separated chilli can be ground and suitable for food purpose.