Tomato Seed Extractor
Tomato Seed Extractor (Video Clip)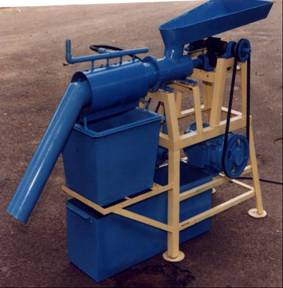 1. Function : To extract seed from tomato fruits
2. Specification :
(a) Overall dimension : 500 x 450 x 1000
(L x B x H )
(b) Capacity : 180 kg of fruit (1.8 kg of seed) per hour.
© Power required : 1 hp for electric motor and 0.5 hp for pump
3. General Information
The unit consists of a feed hopper, fruit crushing chamber, seed separation unit, water recycling system and seed collecting trough. In the crushing chamber the tomato fruits are crushed and squeezed by the rotating screw auger. In the seed separation unit, water separates the seed from the flesh and collected in a container placed at the bottom of seed separation unit. The water collected in the trough is recycled by means of a pump. The flesh coming out of the seed separation unit is collected separately.
4. Cost of the unit (approx) : Rs. 22,500

5. Cost of operation : Rs. 10 per hour
6. Salient features