ITCOT - Industrial and Technical Consultancy Organisation of Tamilnadu Limited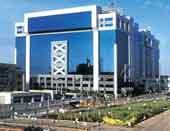 Industrial and Technical Consultancy Organization of Tamilnadu Limited (ITCOT), was incorporated as a company under the Companies Act, 1956, on 17th July 1979 as a joint venture of leading financial institutions, State Development Corporations, and Commercial Banks. The Registered Office of the company is located at 50-A, Greams Rd, Chennai, Tamilnadu 600 006. The name of the company was changed to ITCOT Consultancy and Services Ltd. with effect from 4th October 2004 to offer services as an adjunct to consultancy. The company still continues to be known by its popular name of ITCOT
Training Programmes
The ITCOT has conducted over 500 training programs, seminars, and workshops in major cities and towns in India addressed to Corporates, business persons, executives, financial institutions, Banks, and development agencies.
Entrepreneurship Development
Faculty Development Programmes
Seminars
We also design and conduct objective-oriented corporate in-house training programs tailor-made to suit specific corporate needs.
Entrepreneurship Development Programmes (EDPs)
The organisation has played a catalyst's role in the development of entrepreneurs in a number of ways. It has conducted more than 500 training programmes in Tamilnadu such as:
Entrepreneurship development programmes for science & technology graduates, women, ex-servicemen, PMRY beneficiaries, and voluntary retired persons.
Entrepreneurship development programmes on renewable energy technologies
Entrepreneurship development programmes for women self help groups (SHGs)
Income generation training programme for urban slum dwellers and fishermen
Skill-cum-technology up-gradation programmes in readymade garments/apparels, leather, plastics, handicrafts, and gem cutting
Training programmes in medicinal and aromatic plants
Manpower development in emerging areas
The programmes have so far covered over 10,000 persons from different socio-economic strata in Tamilnadu. According to an assessment of the Entrepreneurship Development Institute of India at Ahmedabad, around 35 percent of the trainees have set up own enterprises.
Faculty Development Programmes
Entrepreneurship education is a lifelong learning process, starting as early as elementary school and progressing through all levels of education, including adult education. The standards and their supporting performance indicators are a framework for teachers to use in building appropriate objectives, learning activities, and assessments for their target audience, namely, students of science and engineering colleges, polytechnics, and entrepreneurship.
Faculty Development Programmes (FDPs) are designed to train and develop professionals in entrepreneurship development so that they can act as resource persons in guiding and motivating young S&T persons to take up entrepreneurship as their career. Faculty development programmes provide the necessary knowledge, tools, and skills to help develop entrepreneurs in their respective institutions. ITCOT conducts faculty development programmes with the support of sponsoring agencies. We also help institutions in organizing specific in-house programmes for institutions and its faculty members to foster entrepreneurial culture.
Seminars
ITCOT conducts seminars on topics of contemporary industry and business topics regularly to promote investment ideas among Banks, financial institutions, research institutions, corporate, entrepreneurs, equipment suppliers, and consultants. A number of seminars have been conducted in different centres in India on wide ranging topics such as:
Project Financing and Appraisal
Non Performing Assets (NPAs)
Opportunities in Insurance Industry
Opportunities in Herbal Industry
Opportunities in ITES
Opportunities in Call Centre Business
Opportunities in Multiplex Business
Business Meets
Business meets provide opportunities for one-to-one interaction among participants to facilitate seller-buyer interaction, explore investment and business opportunities, to enable technology transfer or tie-up, to select the right plant and equipment, to evolve market entry strategies, and so on. These events are organized for the benefit of producers, sellers, buyers, exporters, importers, technology providers, equipment suppliers, consultants, institutions, and such other.
The promoters of ITCOT are:
All India Financial Institutions
· ICICI Bank Ltd.
· Industrial Development Bank of India Ltd.
· IFCI Ltd.

State Development Corporations
· State Industries Promotion Corporation of Tamilnadu Ltd. SIPCOT)
· Tamilnadu Industrial Investment Corporation Ltd. (TIIC)
· Tamilnadu Small Industries Development Corporation Ltd. (SIDCO)
Commercial Banks
State Bank of India

Indian Bank

Indian Overseas Bank

Canara Bank

Central Bank of India

Union Bank of India

Syndicate Bank

Bank of Baroda

The Lakshmi Vilas Bank Ltd.

The Karur Vysya Bank Ltd.