AGRICULTURAL TECHNOLOGIES FOR TSUNAMI DEVASTATED AREAS - NAGAPATTINAM DISTRICT

On 26 December 2004, Tsunami waves wreaked havoc on the coastal regions of the Indian Ocean and claimed around 400,000 lives. In Tamil Nadu the worst affected district is Nagapattinam district. The scheme "Resilience of agricultural lands in tsunami devastated coastal areas of Nagapattinam district of Tamil Nadu" is operating for development of sustainable livelihood of affected farmers through better crop production and allied agricultural activities and the management strategies drawn were as detailed below:

1. Soil management
Incorporation of sea mud: The sea mud deposited in the agricultural lands will be low in salinity due to the action of rain water and hence the farmers are advised to incorporate it into the lands.
Chisel ploughing:To break the subsoil hard pan and improve the water infiltration rate, chisel ploughing is recommended. This facilitates leaching process.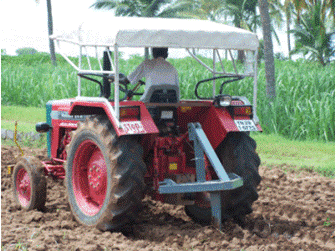 Chisel ploughing
Leaching: Leaching the excess salinity.
Tank silt: To counteract the soil salinity and increase the soil fertility tank silt is recommended.
Green manuring: Green manuring with Sesbania sp. and sunhemp was recommended. Between these daincha is progressing well.
2. Water management
De-silting of ponds:The silt deposited ponds are desilted for two consecutive years to increase the capacity and remove the salined water.
Micro irrigation: Drip and sprinkler irrigation systems are advised to the farmer.
3. Crop management
Rice varieties:Suitable rice varieties are identified through field experiments. They are
Transplanting : CO 43, TRY 1 and ADT 43
Direct sowing : ADT 43, CO 43 and ADT 38
Vegetables:Suitable vegetable crops and varieties are identified through field experiments. They are brinjal, gourds, cluster bean, pumpkin and amaranthus.
Plantation crops:Mango, sapota, amla, pomegranate and guava are suggested for the Tsunami affected regions.
SRI: SRI should be introduced.
Coconut root tonic: Coconut root tonic is introduced through regular field demonstrations and the farmers are applying the tonic to their palms.
4. Livelihood management
Vermicompost production:Trainings should be organized to the farmers for commercial Vermicompost production.
Mushroom cultivation:Field demonstrations should be organized for the farmers and landless people to start commercially production.
Livestock management:
Telicherry breed of goatsis introduced to this region.
Cumbu Napier grass is introduced.
Guinea grassandsubabulare suggested for fodder management.
Source:
Vadivel, E., and S. Prabhu Kumar. Agricultural Technologies for Tsunami Devastated Areas - Nagapattinam District. In District specific technology inventory for Tamil Nadu and Puducherry, DEE, TNAU, CBE -3, p 349-351.