Red sanders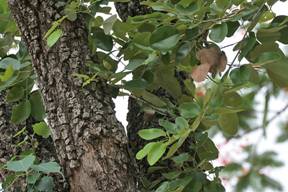 Scientific name: Pterocarpus santalinus
Origin: Indigenous to India.
Rotation: 20-25 years
Spacing: 4 x 4 m
Nursery Technology: The seeds are viable for one year and thereafter germination per cent decreases drastically. The bed size is 1.2 x 1.2 x 0.3 m and raised above ground and about 10-15 kg of pretreated pods are spread uniformly in such a way that flat side touches the ground and about 1 cm sand is spread over the pods, followed by a thin cover of hay or brush wood to conserve moisture and watered immediately.
Planting techniques: The soil is ploughed well and brought to a fine tilth. Pits of 45 cm³ are prepared of 4 x 4 spacing. And one year old seedlings are planted with ball of earth after removing from polythene bag. Then watering is done immediately.
Uses: A natural dye 'santalin' is extracted from the heartwood (16%) which is used for colouring pharmaceutical preparation, food stuffs and paper pulpwood, leather and in textile industries.