MARUVU (Origanum majorana L.)
Labiatae
Varieties
The local varieties are used for cultivation.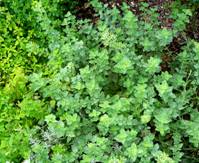 Local type
Soil and climate
It performs better in well drained loamy soils with good irrigation and cool climate.
Propagation and planting
Cuttings from the previous crop are used for planting during December - January on both the sides of the ridges at 30 x 15 cm spacing.
Irrigation
Irrigation is done once in 4 or 5 days.
Manuring
Basal
FYM 25 t/ha along with NPK 55:110:60 kg/ha is applied.
Top dressing
After first cutting 55 kg N/ha is applied as top dressing.
Plant protection
Pests
Aphids
Spray Dimethoate 30 EC or Methyl demeton 25 EC at 2 ml/lit to control aphids.
Duration
It extends about 2 years.
Harvest
The herbage becomes ready for harvest in 100 days and thereafter once in every 30 to 40 days.
Yield
The yield ranges about 10,000 kg of herbage/year/ha.
Source
1. http://img.photobucket.com/albums/v33/namaste2uom/herbs/100_8305.jpg