Following are the Government Cocoon Markets located in TamilNadu
Place the cursor on the place, the address of office, contact number and mail id displayed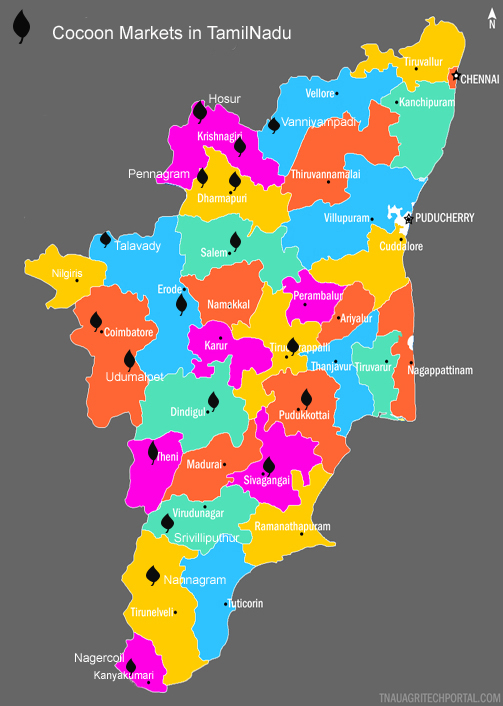 The farmers harvest the cocoon and bring the same to Govt. Cocoon markets for selling their produce. All the farmers are expected to bring their passbook for trading their cocoon in the market. The passbook is expected to have the updated information about the seed purchase and batch information for the purpose of further reference by the market while testing the cocoon for fixing the floor price based on the cocoon.
When the farmers are arrive at the market they are given a lot number for every lot they offer for bidding.
The raw silk producers (Reelers) also come to the market for purchasing the cocoon from farmers. These reelers are also registered raw silk producers and the department has also given them a passbook for recording the transactions at Cocoon market as well as Anna Silk Exchange.
When the reelers arrive at the market and are desirous of participating in the bidding then they are required to pay some advance to the cocoon market before participating in the bidding.
The Inspector incharge of the market will form a committee comprising members from farmers and reelers (vendors and buyers respectively). The committee takes the cocoon sample from every lot offered by the farmer for bidding to test the quality of the cocoon.
The samples taken from every lot is tested for identifying Shell ratio, Assessed Rendita, Defect percentage and reasons for defects. The main purpose of these tests is to calculate Floor price per Kg of cocoon.
The bidding will start from this floor price in front of the market inspector and the highest bidder gets the cocoon. The trading is done only when both the parties viz. vendor and buyer agree.
The sold lots are weighed and a bill is prepared in triplicate. The buyer has to pay by cash and collect the cocoon from the market. After all the buyers pay up their bidding, market will disburse the cash to farmers for the sales they have done that day.
For conducting this activity the Govt. cocoon market collects a levy of 0.75% (this levy percentage can vary in future) from both the vendors and buyers.  
 All the above activities are entered into the passbooks of the farmer and the reeler. In addition the department maintains various registers and documents to record the day-to-day activities of the market