Rice Research Station, Ambasamudram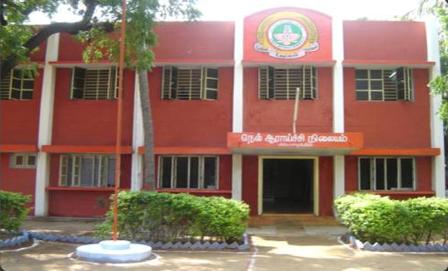 Rice Research Station, Ambasamudram, was established as the third Rice Research Station in Tamil Nadu, in the year 1937, to tackle the problems of rice cultivation in Thamirabarani river ayacut of Southern Tamil Nadu. It is situated near the Western Ghats on the Tirunelveli-Papanasam Road. In its dedicated service to the farming community for the past seven decades, twenty rice varieties and improved production technologies have been provided. ASD 16, a landmark rice variety released in 1986 is still ruling the farmers field of Southern Tamil Nadu. This station was recognized as the "Best Research Station" by Tamil Nadu Agricultural University in 1996.
Mandate
To evolve high yielding varieties and hybrids of rice with improved grain quality and resistance to major insects and diseases.
To conduct strategic research in rice, to generate and recommend the management and protection technologies to the farmers.
To monitor and forecast, rice pests and diseases and provide suitable plant protection measures.
To produce nucleus, breeder and truthful labeled seeds of the popular rice varieties released from this station.
Institute of Agriculture functioning at this station offers two years diploma in Agriculture program and train the students in self employment and entrepreneurship.
Varieties released

Twenty rice varieties and their production technologies have been released from this station. Among them, ASD 1 (Kar Samba Red) released in 1943 was the ruling strain of the tract in the first crop Kar season until 1980. ASD 5 (Karthigai Samba) and ASD 11 (Ottukitchili) of 150 days duration are noted for their suitability to late planted condition and quality rice. ASD 7 (105 days) noted for its resistance to GLH, BPH and leaf-folder; ASD 8 (86 days) for its resistance to GLH, and ASD 9 (92 days) for its resistance to BPH and GLH; are internationally renowned and are being used in resistance breeding all over the world. Among others varieties released, ASD 16 (110-115 days) is still very popular in the southern districts of Tamil Nadu, because of its high yielding ability. ASD 19 is another popular quality rice variety released during 1995, which is suitable for second crop season (October sowing).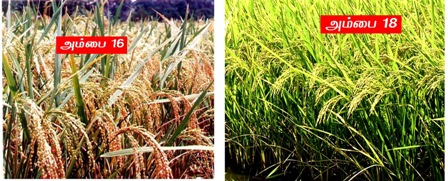 Technologies developed
Rice-Rice-Pulses or Rice-Rice-Gingelly along with subsidiary units of milch animals, rearing of goats, fish cultures and mushroom cultivation are economical for Thamirabarani region.
The first fortnight of June and second week of October are the optimum time of sowing for short and medium duration varieties respectively.
Application of 10 kg of BGA/ha in Kar and Azolla 1.0 t/ha in Pishanam saves 25 kg of N fertilizer /ha.
Basal application of DAP to the nursery @ 2 kg/cent and treating the sprouted seeds with 4% DAP solution for 15 minutes prior to sowing enhances rice yield.
Application of slaked lime 1 t / ha for every crop upto five crops of paddy is essential to reclaim the soil acidity and to bring the soil PH to the near normal condition for getting good yield in rice.
Application of Phosphobacterium (2 kg/ha) to the main field increases the efficiency of 'P' availability in acid soils.
Root soaking of rice seedling in 100 ml of chlorpyriphos + 500 g of urea dissolved in 50 litres of water for 30 minutes effectively controls the rice pests upto 30 days of planting.
Basal application of 150 kg/ha of neem cake powder and 5% NSKE spray on 30, 40 and 50th day, controls stemborer, leaf folder, ear head bug and sheath blight of rice.
Dissolving phorate 10% granules @ 2.5 g/10 litres of water and pouring it in rat holes and plugging with mud destroy the adults and young ones.
The IPM module (PGPR Consortia seed treatment @ 10g/kg and Soil application @ 2.5 kg/ha with 50 kg FYM/ha, release of Trichogramma japonicum @ 5cc/ha on 30, 37, 44, 51 and 58 DAT and T. chilonis @ 5cc/ha on 37, 44 and 51 DAT, LCC based N application, need based application of NSKE 5%/ ACK 10 D), controls the pests of rice and increase the natural enemies population.
Study on the seasonal incidence of disease indicated that bacterial leaf blight affected the rice crop during September – October, sheath blight in October – November and brown spot during January-February, whereas sheath rot occurred throughout the year; but severity was noticed during October-November and Tungro virus affected the crop during December-January.
Sprouted seed treatment with Bavistin (16 g/40 litres of water) + 1% urea and bavistin + KCl 0.1% recorded the least bacterial blight infection. Spraying of Hinosan twice on 20th and 40th day after transplanting recorded low incidence of sheath blight disease.
Contact address

Assoc. Prof. & Head
Rice Research Station
Ambasamudram - 627 401. Tirunelveli
Phone: 04634 – 250215
Fax: 04634 255424
Email:arsasd@tnau.ac.in