TNAU Information and Training Centre, Chennai
TNAU Information and Training Centre was established at Chennai to serve as an information center for hi-tech horticulture technology and conduct training programs at Chennai.
Year of establishment- 2000
Objectives
to develop a hi-tech horticulture nursery, supply of quality plant material, tissue culture plants, seeds of vegetables, flowers and herbs, ornamental plants, tree seedlings etc.
to serve as an information centre for hi-tech horticulture technology
to impart training programmes on hi-tech horticulture to urban entrepreneurs, unemployed graduates, students, NGOs, corporates, house wives etc.
to inculcate knowledge on development of horti-ecological parks, avenues, greenery, theme parks, botanical gardens, herbal parks, landscaping etc. to reduce pollution and ecological hazards in the city
formulation of hi-tech horticultural projects, providing technological assistance to new entrepreneurs for promoting the horticulture industry
providing consultancy on landscaping, terrace garden, herbal and aromatic garden, production of edible mushroom, floral arrangement, dry flower production, establishment of fruit processing plant, vegetable dehydration units, essential oil extraction units, phytochemical extraction unit, preparation of eco-friendly biocompost, biofertilizers, stablishment of hi-tech floricultural units under controlled conditions
to create a database on horticultural market information system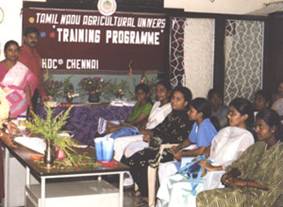 Training School children
Current activities
Future programmes Establishment of an extension counter with Publications viz., News letter, Valarum Velanmai, books, bulletins, annual reports etc.
Production and distribution of bio-manures like Azospirillum, Phosphobacteria, VAM enriched compost, micro nutrient enriched manures for horticultural crops, balanced nutrient mixtures for Dendrobium, Anthurium and other high value crops
Establishment of Mobile Plant Clinic for attending horticultural problems of the city for offering on the spot solutions/ recommendations
Establishment of Hi-Tech Horticulture Project Formulation Cell for preparation of new projects for enthusiastic horticultural entrepreneurs for approaching financial assistance from banks, NHB, NABARD, etc.
Association with house/ office/ flat construction architects in preparation of appropriate Model Plans for the urban and suburban city extension areas for laying landscape, avenues, home gardens, greenery park, theme parks, public gardens etc in a scientific way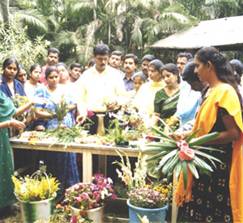 TRAINING PROGRAMMES AT Information and Training Centre, TNAU, CHENNAI
| | |
| --- | --- |
| S.No. | Name of the training |
| 1 | Landscape Gardening |
| 2 | Indoor Plants Care |
| 3 | Flower Arrangements |
| 4 | Kitchen Gardening and Vegetable growing |
| 5 | Roof Gardening |
| 6 | Bonsai Making |
| 7 | Dry flower production & Arrangements |
| 8 | Kitchen Gardening with Herbal plants |
| 9 | Orchard Establishment |
| 10 | Medicinal Plants Production & Marketing |
| 11 | Organic production of Fruits and Vegetables |
| 12 | Fruit & Vegetable preservation |
| 13 | Cookery |
| 14 | Preparation of Spicy Products |
| 15 | Preparation of Sweets and Savories |
| 16 | Herbal Cookery |
| 17 | Entrepreneur Development Training |
| 18 | Vocational Training for School Children |
| 19 | Edible mushrooms |
| 20 | Vermiculture and Vermicomposting |
| 21 | Jatropha Cultivation |
Contact:
Professor and Head
TNAU Information and Training Centre,
U-30, 10th Street, (Behind Jayagopal Garodia School)
Anna Nagar, Chennai – 600 040
Phone: 044-26263484
Fax : 044-26283484
e.mail : chennai@tnau.ac.in