Oilseeds Research Station, Tindivanam
Pioneer research station in Tamil Nadu exclusively for oilseeds.

Started as Agricultural Research Station in 1935

Upgraded as Regional Research Station in 1962

Renamed as Oilseeds Research Station and brought under Tamil Nadu

Agricultural University in 1981
About the station
Extent : 61.55 hectares
Latitude : 12.5' N
Longitude : 79.5' E
Altitude : + 45.6 m a s l
Minimum Temperature : 19-21'C
Maximum Temperature : 33-42'C
Relative Humidity : 83-86%
Average Rainfall : 1158 mm
S. W. monsoon : 312 mm
N.E. monsoon : 846 mm
Soil : Sandy Loam
PH : 7 to 7.5
Irrigation:
Open wells : 10
Bore wells : 2

Objectives:
To evolve groundnut, sesame and castor varieties with desirable attributes viz., shorrt duration, high yield, high oil content, drought tolerance, fresh seed dormancy, resistance to major insect pests and diseases etc.,
To develop crop management technologies for the released varieties.
To identify the best crop rotation and inter crop suited for the zone.
To develop improved weed management practices.
To find out suitable micronutrients and biofertilizers for augmenting the yield.
To screen cultures and genotypes so as to identify resistant types.
To evolve integrated insect pests and diseases management practices.
To test the efficacy of bio-products and new chemical formulations against insect pests and diseases.
To produce nucleus and breeder seeds for supply to State Department of Agriculture with respect to TMV 2, 7 and 10 in groundnut, TMV 3,4,5 and 6 in sesame and TMV 1 blackgram.
To produce breeder seeds of TMV 5 and 6 castor for supply to State Department of Agriculture.
To monitor the groundnut breeder seed programme at State Oilseeds Farm, Musaravakkam.
Achievements
Twelve high yielding groundnut varieties TMV 1 to 12 were released. This includes six bunch, three semi-spreading and three spreading varieties. TMV 2 is a bunch variety with wider adaptability and is under cultivation in Karnataka, Andhra Pradesh and Gujarat also. TMV 10 is a semi-spreading variety with highest oil content (54%).
Six high yielding sesame varieties TMV 1 to 6 were released TMV 3 is a versatile variety suited for all seasons. TMV 5 is suited to cold weather season while TMV 4 and 6 are suited for summer season.
Six high yielding castor varieties TMV 1 to 6 and one castor hybrid TMVCH 1 were released.
One high yielding blackgram variety TMV 1 was released. It is a short duration variety suited for districts in the North Eastern Zone.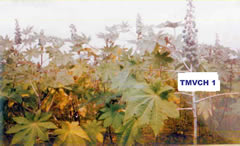 TMVCH 1 Castor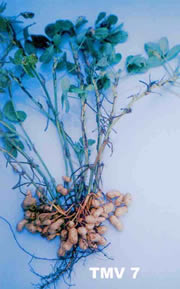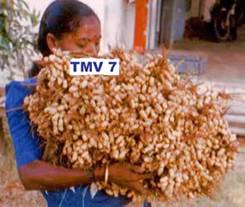 TMV 7 Groundnut

Future Thrust
Breeding for quality attributes in groundnut and sesame with particular emphasis on rainfed conditions with resistance/tolerance to biotic and abiotic stresses.
Production of nucleus and breeder seeds of promising varieties released from the station.
Undertaking water technology studies for rainfed oilseed crops.
Developing Agri-Horti and Agri-Sylvipasturl systems suitable for the region.
Developing integrated pests and diseases management practices for rainfed conditions.
Coordinating the extension activities in collaboration with sister and allied State
departments viz., Department of Agriculture, Department of Horticulture and Plantation crops, Department of Seed Certification etc.,
Contact :
Professor and Head
Oil Seeds Research Station,
Erayanur Village (Post),
Tindivanam - 604 025.
Phone : 04147-250293, 04147-250001
Fax: 04147-250293
e-mail ID : arstvm@tnau.ac.in