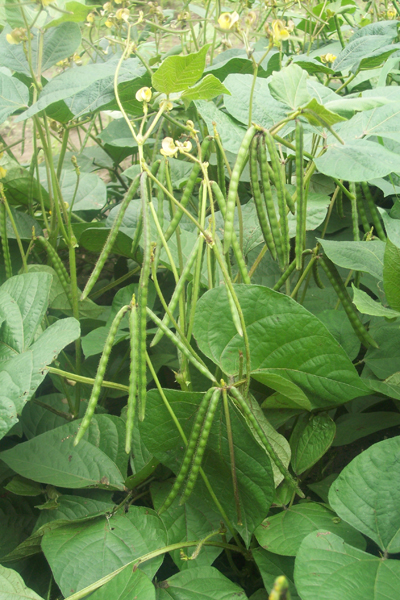 GREENGRAM ( Vigna radiata L. )
CROP IMPROVEMENT
I. SEASON AND VARIETIES
District/Season
Varieties
Adipattam (June - July)
All districts except Kanyakumari and Nilgiris
Co 6, Co(Gg) 7, VBN 2, VBN(Gg) 3
Vellore and Thiruvannamalai
VRM(Gg) 1,
Puratasipattam (September - October)
Kanchipuram, Tiruvallur, Dharmapuri, Vellore,
Co 6, VBN(Gg) 2, VBN(Gg) 3
Tiruvannamalai, Salem, Namakkal, Cuddalore,
Villupuram, Thiruchirapalli, Perumbalur, Erode,
Coimbatore, Madurai, Dindigul, Theni, Pudukottai,
Pudukkottai, Sivagangi, Ramanthapuram,
Virudhunagar, Thothukudi and Thirunelveli
VRM(Gg) 1
Vellore and Tiruvannamalai,
Margazhi-Thai Pattam (December – January)
All districts except Kanyakumari and Nilgiris
VBN(Gg) 2, VBN(Gg)3
Rice fallows (January - February)
Thanjavur, Tiruvarur, Nagapattinam, Cuddalore
ADT 3
Summer (February - March)
Thanjavur, Tiruvarur, Nagapattinam, Cuddalore,
Co 6, VBN(Gg) 3
Villupuram, Tiruchirapalli, Perambalur, Thiruvallur,
Kanchipuram
DESCRIPTION OF GREENGRAM VARIETIES
Particulars
KM 2
CO 4
ADT 3
Paiyur 1
VBN 1
K 1
Parentage
Hybrid deri­vative of No.127xS.9
Mutant of
CO 1
Hybrid deri­vative of H70-16/ Rajendran/
G65
PS from DPT 703
Hybrid deri­vative of S.8xPIMS 3
Co 4 x ML 65
Year of release
1978
1981
1988
1988
1989
1998
50% flowering (days) Duration (days) Grain yield (kg/ha)
Rainfed
35 - 40 65 - 70 767
40 – 45 85 910
36 66 500
45 - 50 85 – 90 742
30 - 35 65 770
70 - 75 - 670
Irrigated Plant height (cm) Stem, branches etc. Branches
.. 35 - 45 Green stem -
1550 60 - 70 Green stem 3 – 4
500 (Rice fallows) 35 – 45 Green stem 2 – 3
- 5 5- 60 Green 3 – 4
.. 55 - 60 Green sparsely hairy 2 – 3
70 - 75 Green, slightly Pubescent 3 - 4
Leaves
Medium
Broad tripartate
and hairy
Medium broad, Petiole long
Broad
Medium, foliate, ovate
Broad
Pod characters
Dark brown and tip covered
Green when tender & black on drying
Dark brown
Dull green
Sparsely hairy , light black pods
Long and slightly pubescent, brown
Colour of grain
Shiny green
Dull green
Green
Dull Green
Green
Dull green
100 grain wt (g)
3.0
4.1
2 - 3
3 - 5
3.6
3.5
Particulars
CO 6
VRM(Gg) 1
VBN(Gg) 2
Parentage
WGG 37 x CO 5
Pure line selection from
K 851
Cross derivative of VGG 4 x MH 309
Year of release
1999
2001
2001
50% flowering (days)
26 – 30
31 – 35
30 – 35
Duration (days)
62 – 67
56 – 67
65 – 70
Grain yield (kg/ha)
Rainfed
900
1100
750
Irrigated
Plant height (cm)
1050
35 - 55
-
45 – 55
900
50 – 60
Leaves
Colour of pod
Colour of grain 100 grain wt (g)
Broad Pubescent
Green with smooth surface 3 .4
Broad Pubescent
Shiny green bold and smooth surface 3.5
Trifoliate with lobes
Sparsly hairy pods
Shiny green 3.6 – 3.9
Particulars
VBN (Gg) 3
VRM (Gg) 2
Co (Gg) 7
ADT 3
Parentage
CO 1 x Vellore local
Pure selection from KM851
MGG336 x CoGG 902
H7016 x Rajendran G65
Year of release
2009
2001
2006
1988
Duration (days)
65-75
60-70
60 - 65
66
Plant height(cm)
35-55
-
30 - 45
35- 45
100 grain wt (g)
2.8-3.5
-
3.5 – 4.0
2.3
Grain yield (kg/ha)
Rainfed
775
1100
978
500 kg/ha (Rice fallow)
Irrigated
878
-
-
Pod Colour at maturity
Brown
Black
Brown
Special features
Moderately resistant to powdery mildew and Yellow mosaic Indeterminate flowering
Moderatly resistant to yellow mosaic virus
High protein content (25.2%), High seed weight and synchronized maturity
Suitable only for Rice fallow and Margazhi pattam
MANAGEMENT OF FIELD OPERATIONS

1. FIELD PREPARATION
Prepare the land to get fine tilth and form beds and channels.
Amendments for soil surface crusting: To tide over the soil surface crusting apply lime at the rate of 2 t/ha along with FYM at 12.5 t/ha or composted coir pith at 12.5 t/ha to get an additional yield of about 15 - 20%.
SEED RATE

Particulars
Quantity of seed required kg/ha
Pure crop
Mixed crop
All strains
20
10
Rice fallows - ADT 3
30
--

Optimum plant population 3,25,000/ha.
Source: http://dacnet.nic.in/pulses/gallery1.htm
2. SEED TREATMENT
Treat the seeds with Carbendazim or Thiram @ 2 g/kg of seed 24 hours before sowing (or) with talc formulation of Trichoderma viride @ 4g/kg of seed (or) Pseudomonas fluorescens @ 10 g/kg seed. Bio control agents are compatible with biofertilizers. First treat the seeds with Biocontrol agents and then with Rhizobium. Fungicides and biocontrol agents are incompatible.
3. SEED TREATMENT WITH BIOFERTILIZER
Treat the seeds with one packet (200 g/ha) of Rhizobial culture CRM 6 and one packet (200 g/ha) of Phosphobacteria one packet (200 g/ha) of PGPR developed at TNAU using rice kanji as binder. If the seed treatment is not carried out apply 10 packets (2 kg) of Phosphobacteria and 10 packets (2 kg) of PGPR with 25 kg of FYM and 25 kg of soil before sowing.
4. FERTILIZER APPLICATION
Apply fertilizers basally before sowing.
Rainfed : 12.5 kg N + 25 kg P2O5 + 12.5 kg K2O +10 kg S*/ha
Irrigated : 25 kg N + 50 kg P2O5 + 25 kg K2O + 20 kg S*/ha
*Note : Applied in the form of gypsum if Single Super Phospate is not applied as a source of phosphorus
Soil application of 25 kg ZnSo4/ha under irrigated condition
Soil application of 25 kg ZnSo4/ha under irrigated condition
Soil application of TNAU micronutrient mixture @ 5 kg/ha as Enriched FYM (Prepare enriched FYM at 1:10 ratio of MN mixture & FYM ; mix at friable moisture &incubate for one month in shade).
Multi-blooming technology for irrigated green gram in new delta region of Thanjavur
For higher yield and income, apply 25:50:25:20 kg NPKS/ha.+25 kg N/ha. in 3 equal splits on 30, 45 and 60 days after sowing + 2% DAP spray on 45 and 60 days after sowing.
Foliar spray of 1% urea for yield improvement in green gram
For yield improvement through increasing the physiological, biochemical attributes, foliar spray of urea 1% on 30 and 45 days after sowing is recommended. For rice fallow pulses in Delta area, the present recommendation of foliar spray of 2% DAP may be continued.
Economizing the use of micronutrients through seed treatment for greengram
Seed coating with biofertilizers and micronutrients viz., Zn, Mo & Co @ 4,1,0.5 g/kg of seed is recommended.
5. SOWING
Dibble the seeds adopting a spacing of 30 x 10 cm. For bund crop dibble the seeds at 30 cm spacing.
Thinning operation
6. WATER MANAGEMENT
Irrigate immediately after sowing, followed by life irrigation on the third day. Irrigate at intervals of 7to 10 days depending upon soil and climatic conditions. Flowering and pod formation stages are critical periods when irrigation is a must. Avoid water stagnation at all stages. . Apply KCl at 0.5 per cent as foliar spray during vegetative stage if there is moisture stress.
7. SPRAYING OF DIAMMONIUM PHOSPHATE OR UREA, NAA AND SALICYLIC ACID
a. Foliar spray of Spray of NAA 40 mg/litre and Salicylic acid 100 mg/litre once at pre-flowering and another at 15 days thereafter
b. i) For rice fallow crops, foliar spray of DAP 20 g/litre once at flowering and another at 15 days
thereafter
ii) For irrigated and rainfed crops foliar spray of DAP 20 g/litre or urea 20 g/litres once at flowering and another at 15 days thereafter.
8. WEED MANAGEMENT
Pre emergence application of Pendimethalin @ 3.3 litres per hectare under irrigated condition or 2.5 litres per hectare under rainfed condition on 3 days after sowing using Backpack/ Knapsack/Rocker sprayer fitted with flat fan nozzle using 500 litres of water for spraying one ha. After this, one hand weeding on 30th days after sowing gives weed free environment throughout the crop period (or) EPOE application of quizalofop ethyl @ 50 g ai/ha-1 and imazethapyr @ 50 g ai ha-1 on 15 – 20 DAS.
If herbicide is not applied give two hand weedings on 15 and 30 days after sowing.
9. MULTI BLOOM TECHNOLOGY
A special technology being practiced in Pattukottai block of Tanjore district for blackgram and greengram. The soil is alluvial and rich in organic matter and nutrients. The crop is sown during early summer (Jan.-Feb.) as normal crop and fertilizer is applied as per the recommendation for irrigated crop. In addition to that, top dressing of Nitrogen is done with an extra dose of 25 to 30 kg through urea. Since pulses are indeterminate growth habit and continue to produced new flushes, the top dressing will be done on 40-45 days after sowing. The crop complete its first flushes of matured pods during 60-65th day and put further second new flush within 20-25 days. Therefore two flushes of pods can be harvested at a time within the duration of 100 days.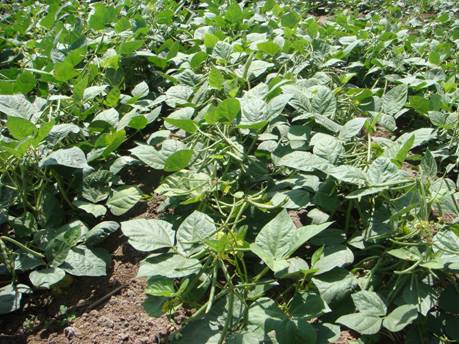 RICE-FALLOWS
VARIETIES AND SEED RATE
Quantity of seed required kg/ha

Varieties
Sole crop
Mixed crop
All varieties
30
-
1.TIME OF SOWING
Third week of January –Second week of February
2.SOWING OF SEEDS
For relay cropping broadcast the seeds in the standing crop 5 to 10 days before the harvest of the paddy crop uniformly under optimum soil moisture conditions so that the seeds should get embedded in the waxy mire.
For combined harvesting areas, broadcast the seeds before harvesting the paddy crop with machineries
3. SPRAYING OF DIAMMONIUM PHOSPHATE , NAA AND SALICYLIC ACID
Foliar spray of NAA 40 mg/litre and Salicylic acid 100 mg/litre once at pre-flowering and another at 15 days thereafter
Foliar spray of pulse wonder @ 5 kg/ha once at flowering or DAP 20 g/lt once at flowering and another at 15 days thereafter
4. HARVESTING
Picking the matured pods, drying and processing

Uprooting or cutting the whole plants ,heaping ,drying and processing
Crop Protection