SEASON AND VARIETIES
District/Season
Varieties/Hybrids
Irrigated (Main)
Winter Irrigated (Aug – Sep)
Coimbatore, Erode, Madurai, Dindigul, Theni
MCU 5, MCU 5 VT, Suvin, TCHB 213*, MCU 12,
MCU 13, Surabhi
Dharmapuri
MCU 5, TCHB 213*, MCU 12, MCU 13, Surabhi
Salem, Namakkal
MCU 5, Suvin, TCHB 213*, MCU 12, MCU 13, Surabhi
Cuddalore, Villupuram
LRA 5166, SVPR 2, SVPR 4, Surabhi,
Summer – Irrigated (Feb – Mar)
Erode
MCU 5, MCU 5 VT, MCU 12, MCU 13, Surabhi
Madurai, Dindigul, Theni
MCU 5, MCU 5 VT, SVPR 2, SVPR 4, Surabhi
Ramanathapuram, Virudhunagar, Sivagangai,
MCU 5, MCU 5 VT, SVPR 2, SVPR 4, Surabhi
Tirunelveli, Thoothukudi
Rainfed (Sep – Oct)
Madurai, Dindigul, Theni
LRA 5166, K11, KC 2, SVPR 2,KC 3
Ramanathapuram, Virudhunagar, Sivagangai
LRA 5166, K 11, KC 2, SVPR 2,KC 3
Tirunelveli, Thoothukudi, Dharmapuri
LRA 5166, K 11, KC 2, SVPR 2,KC 3
Rice Fallow
Thanjavur, Tiruvarur, Nagapattinam, Parts of Trichirapalli, Perambalur, Karur, Cuddalore and Villupuram
MCU 7, SVPR 3, Anjali
* Hybrid

PARTICULARS OF COTTON VARIETIES/HYBRIDS
Varieties/ Hybrids

Parentage
Season
Irrigated/ Rainfed
Mean yield of seed (kg/ha)
Special features

MCU 5

Multiple cross

Aug-Oct
Feb-Mar

Irrigated

1850

Extra long staple
(29 mm MHL),
Can spun upto 70s, ginning 34%

MCU 7

X ray irradiation of X L 1143 EE

Jan-Feb

Rice fallows

1330

Medium staple
(23.7 mm MHL), Can spun upto 30s, early maturing with 33.2% ginning outturn. Tolerant to Black arm

MCU 12

Derivative from the cross LRA 5166 x MCU 11

Aug-Oct

Irrigated

2000

Shorter in duration than MCU 5, GOT 34.8%
Can spun upto 50s

MCU 13

It is a multiple cross derivative involving the parents of [(TCH 665 x LS 149) x (TCH 665 x TCH 21)] x (TCH 21 x EECH) x (TCH 92-7 x EECH)

Aug- Oct Jan-Feb

Irrigated

2200

Early duration
Can spun upto 50s

LRA 5166

Laxmi x Reba B.50 x AC 122

Aug-Oct Jan –Feb

Irrigated Rainfed

1800
725
Medium staple
(29 mm), Can spun upto 40s, ginning 36.2%

MCU 5 VT

Reselection from MCU 5

Aug-Oct Jan –Feb

Irrigated

2000

Extra long staple, Verticillium wilt tolerant

Supriya

MCU 5 x C 1998

Aug-Oct Jan-Feb

Irrigated

2000

White fly tolerant

Anjali

LRA 5166 x (Khandwa 2 x Reba B 50) BC 2

Jan –Feb

Irrigated
(Rice fallows)

1800

Dwarf, semi compact plant type

Surabhi

MCU 5 VT
(MCU 5 x G.mexicanum)

Aug-Oct

Irrigated

2200

Exta long staple, Verticillium wilt resistant

Sumangala

CW 134 x Reba B 50 x Khandwa 2

Sept-Oct Jan –Feb

Irrigated
Rainfed
2000
1200

Suitable for rainfed tract

Sruthi

70 E x RSP 4

Sept-Oct Jan –Feb

Irrigated

2500

Early duration

K 11

(0794-1-DX H 876) x (0794-1-DX H 450) Multiple Hybrid derivative

Sept – Oct

Rainfed

1100

Better fibre properties with lesser pest incidence than K10

Suvin

Hybrid derivative from the cross Sujatha x St. Vincent

Aug-Oct

Irrigated

1020

Extra long staple cotton with 28% ginning outturn and 32 mm MHL, spins 100s
Varieties/ Hybrids
Parentage
Season
Irrigated/Rainfed
Mean yield of Seed (kg/ha)
Special features

TCHB 213

Interspecific Hybrid of TCH 1218 (G.hirsutum)
and TCB 209 (G.barbadense)

Aug-Sep

Irrigated

2215

High yielding, early maturing, Tolerant to leaf spot diseases

SVPR 2

TSDT 22 x JR 36

Feb - Mar
Sep-Oct
Irrigated
Rainfed

2000

High ginning out turn of 36.4%, medium staple (24.3 mm), can spin 30's, suited to summer irrigated, winter rainfed and tankfed rice fallow tracts of Tamil Nadu.

SVPR 3

Selection from L.H 900 x 1301 D.D

Jan-Feb

Rice fallows

1800

Suitable for rice fallow tract.
early duration (135-140 days). Tolerant to drought,
leafhopper, alternaria spot, black arm disease.

KC 2

MCU 10 x KC 1

Sep - Oct

Rainfed

1000

High ginning out turn of 37.5%, medium staple cotton - 24.4 mm, Suited for rainfed black cotton soil of Tirunelveli, Thoothukudi and Virudhunagar Districts.

KC 3
Hybrid derivative
of TKH 97x KC1
Sep- Oct
Rainfed
1080
Resistant to leaf
hoppermedium staple
cotton – 26.4 mim, suited
to southern districts of
Tuticorin, Tirunelveli and
Virudhu Nager district.
SVPR 4
Hybrid derivative of MCU 5x S4727
Feb-Mar Sep- Oct
Irrigated Rainfed
1800
Superior medium staple
cotton with good fibre
strength. suitable for spinning 40's yarn.
IRRIGATED COTTON CROP
PREPARATION OF FIELD FOR IRRIGATED COTTON CROP
1. PREPARATION OF THE FIELD
| | |
| --- | --- |
| i) | Prepare the field to get a fine tilth. |
| ii) | Chiselling for soils with hard pan: Chisel the soils having hard pan formation at shallow depths with chisel plough at 0.5 M interval, first in one direction and then in the direction perpendicular to the previous one, once in three years. Apply 12.5 t farm yard manure or composted coir pith/ha besides chiselling to get increased yield |
| iii) | If intercropping of Greengram/Soybean is proposed, prepare the main field, so as to provide ridges and furrows to take up sowing 20 days prior to cotton sowing. |
2. APPLICATION OF FYM OR COMPOST


Spread 12.5 t of FYM or compost or 2.5 t of vermicompost per ha if available, uniformly on the unploughed soil.
Azophos 2kg/ha or Azospirillum + Phosphorus Solubilising Bacteria + Pink Pigmented Facultative Methylotropics @ 2.2 kg/ha each apply as basal application.


3. APPLICATION OF BIOFERTILIZER

Seed treatment with 3 packets of Azospirillum (600 g/ha) and 3 packets (600 g/ha) of Phosphobacteria or 6 packets of Azophos(1200 g/ha). In addition apply 10 packets of Azospirillum (2000 g/ha) and 10 packets (2000 g/ha) of Phosphobacteria or 20 packets of Azophos (4000 g/ha) mixed with 25 kg FYM and 25 kg of soil on the seed line. This saves 25% nitrogen besides increasing yield.

4. FORMATION OF RIDGES AND FURROWS
Form ridges and furrows 10 m long with appropriate spacing depending upon the variety.

Use ridge plough or bund former to form ridges so as to economise on cost of cultivation.

In fields with ragi stubbles, just dibble cotton seeds at the specified spacings.

Adopt the following spacing between ridges for different varieties/hybrids.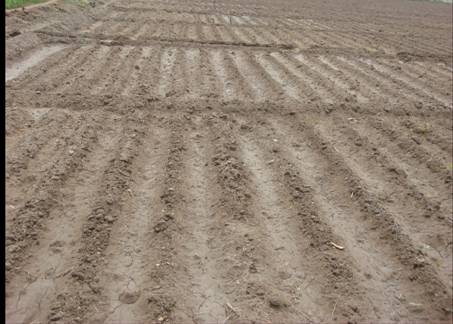 Form ridges and furrows 10 m long with appropriate spacing
Varieties/Hybrids

Spacing between ridges (cm)


MCU 5, SVPR 2, LRA 5166, MCU 12, MCU 13

NOTE: Adopt higher spacing rows in fertile soils by 15 to 30 cm.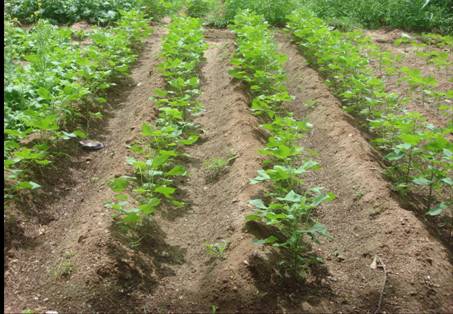 Cotton cultivation in ridges and furrows

5. APPLICATION OF INORGANIC FERTILIZERS
Apply NPK fertilizers as per soil test recommendations.

If soil test recommendations are not available, follow the blanket recommendation for the different varieties.
Varieties / Hybrids
Quantity of fertilizers (Kg/ha)
N
P

2

O

5

K

2

0

MCU 7, SVPR 3

60

30

30

MCU 5, MCU 5 VT, MCU 12, MCU 13,Suvin, SVPR 2

80

40

40

TCHB 213,

120

60

60
If basal application could not be done, apply on the 25th day after sowing.

Apply 50 per cent of N and K full dose of P2O5 as basal and remaining ½ N and K at 40 – 45 DAS for varieties. For hybrids apply N in three splits viz., basal, 45 and 65 DAS.
Foliar application of 2% DAP + 1% KCl or polyfeed and Multi k may be sprayed to improve kapas yield.

Apply the fertilizers in a band, two-thirds of the distance from the top of the ridge, and incorporate.
6. APPLICATION OF MICRONUTRIENT MIXTURE

Mix 12.5 kg of micronutrient mixture formulated by the Department of Agriculture, Tamil Nadu with enough sand to make a total quantity of 50 kg for one ha.
7. NUTRITIONAL DISORDERS' CORRECTION
In the case of Zinc deficient soils ZnSO4 @ 50 kg/ha as basal or ZnSO4 0.5% spray thrice at 45, 60 and 75 DAS.

When reddening occurs in leaves apply 5% MgSO4 Urea (1.0%) and ZnSO4 (0.10%) as foliar spray on 50th and 80th day to correct this malady. In Mg deficient areas apply MgSo4 @ 20 kg/ha basally.

Need based foliar spray of 2% MgSo4 + 1% Urea during boll formation stage.
II. MANAGEMENT OF MAIN FIELD OPERATIONS
I. SEED RATE
Adopt the following seed rates for different varieties/hybrids
Varieties / Hybrids
Quantity of seed (Kg/ha)
With fuzz
Delinted
Naked

MCU 5, MCU 5 VT, MCU 7, MCU 12, MCU 13

15.00

7.50

..

SVPR 2

15.00

..

..

KC 2

20.00

15.00

..

SUVIN

..

..

6.00

TCHB 213

2.5

2.0

..
2. SPACING
In a pure crop of cotton, adopt the spacing as below for the different varieties.
Varieties / hybrids
Spacing ( cm)
Between rows
Between plants

MCU 5, MCU 5 VT, MCU 12, MCU 13

LRA 5166, SVPR 2

75

30

KC 2

45

15

SUVIN

90

45

TCHB 213

120

60

MCU 7, SVPR 3

60 or 75 *

30
* Fertile soils
If cotton intercropped with other crops, one paired row of cotton is alternated with three rows of intercrop and the total population of cotton crop is maintained at the same level as in the case of pure crop.

For intercropping with Greengram / Soybean, complete the sowing and irrigation 20 days prior to cotton sowing on one side of the ridge.
Varieties/hybrid
Spacing for cotton crop ( cm)
Within
Paired row
Between Paired rows
Between plants

MCU 5, MCU 5 VT, MCU 12,MCU13

60

90

30

SUVIN

80

100

45

TCHB 213

100

140

60
Plant two rows of intercrop between each paired row of cotton
Intercrop
Seed rate(kg/ha)
Spacing (cm)
Rows
Plants

Blackgram

12.5

30

10

Greengram

12.5

30

10

Cowpea

7.5

30

20

Soybean

20.0

30

10
For higher returns, advance sowing of either greengram or soyabean 20 days before sowing of cotton in winter season.

Cotton intercropped with soybean
Source: www.cicr.nic.in

Cotton + Blackgram intercropping



Cotton + greengram intercropping


3. ACID-DELINTING OF COTTON SEEDS
Choose plastic bucket bucket for acid delinting of seeds.

Do not use earthen wares, metal vessels, porcelain wares or wooden drum for acid delinting as concentrated sulphuric acid will corrode them.

Put the required quantity of seeds in the container and add commercial concentrated sulphuric acid at the rate of 100 ml per kg of fuzzy seed.

Stir vigorously and continuously with a wooden stick for 2 to 3 minutes till the fuzz sticking to the seeds is completely digested and the seed coat attains a dark brown colour of coffee powder.

Add water to fill the container. Drain the acid water and repeat the washing 4 or 5 times to remove any trace of acid.

Remove the floating, ill-filled and damaged seeds while retaining the healthy and good seeds which remain at the bottom.

Drain the water completely and dry the delinted seeds in shade.
NOTE: Acid delinting has the following advantages:
Eliminates some externally seed borne pathogenic organisms.

Kills eggs, larvae and pupae of pink boll worm.

Helps to remove immature, ill-filled, cut and damaged seeds.

Makes seed dressing more effective and easy

Facilitates easy sowing and good germination.
4A. PRE-TREATMENT OF ACID DELINTED SEEDS WITH FUNGICIDES

Treat the delinted seeds with talc formulation of Trichoderma viride @ 4g/kg of seed or with Carbendazim (or) Thiram @ 2g/kg of seed. Biocontrol agents are compatible with biofertilizers. First treat the seeds with biocontrol agents and then with biofertilizers. Fungicides and biocontrol agents are incompatible.

Treat the delinted fungicide treated seeds with 3 packets (600 g) of Azospirillum and 3 packets of phosphobacteria 600g (or) 6 packets of Azophos (1200 g) and sow immediately.
4B. SEED HARDENING

Soak the seeds in equal volume of Pungam leaf extract (1%) for 8 hours and dry back to original moisture to increase germination and vigour. Dry the seeds in shade.
Seed pelleting: Seeds coated with arappu leaf powder (100 g/kg) along with DAP (40 g/kg), micronutrient mixture (15 g/kg) and Azospirillum (200 g/kg) phosphobacteria (200 g/ha) or Azophos (400 g/ha) using 5% maida solution or gruel as adhesive
(300 ml/kg) to increase the germination and vigour.
5. SOWING
Dibble the seeds at a depth of 3-5 cm on the side of the ridge 2/3 height from the top and above the band where fertilisers and insecticides are applied, maintaining the correct spacing and then cover seeds with soil. In the case of intercropping, sow the seeds of the intercrop in between the paired rows of cotton in a row of 5 cm apart and cover the seeds.

Sow the required number of seeds in each hole.
Varieties / hybrids
No. of seeds / hole
Fuzzy seeds
Delinted seeds

Hybrids

2

1

Varieties

3

2

Dibble the seeds at a depth of 3-5 cm



Seedling emergence under flood irrigation system
Source: www.cicr.nic.in
6. WEED MANAGEMENT
Apply Pendimethalin @ 3.3 l/ha three days after sowing, using a hand operated sprayer fitted with deflecting or fan type nozzle. Sufficient moisture should be present in the soil at the time of herbicide application. This will ensure weed free condition upto 40 days.

One hand weeding on 45 DAS will keep weed free environment upto 60 DAS.

Hoe and hand weed between 18th to 20th day of sowing, if herbicide is not applied at the time of sowing.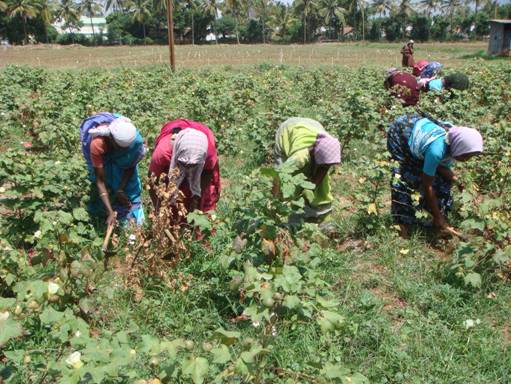 One hand weeding on 45 DAS will keep weed free environment upto 60 DAS
7. GAP FILLING

a. Take up gap filling on the 10th day of sowing.
In the case of TCHB 213, raise seedlings in polythene bags of size 15 x 10 cm.

Fill the polythene bags with a mixture of FYM and soil in the ratio of 1:3.

Dibble one seed per bag on the same day when sowing is taken up in the field.

Pot water and maintain.


On the 10th day of sowing, plant seedlings maintained in the polythene bags, one in each of the gaps in the field by cutting open the polythene bag and planting the seedling along with the soil intact and then pot water.
b. In the case of all other varieties, dibble 3 to 4 seeds in each gap and pot water.

8. THINNING

Thin out the seedlings on the 15th day of sowing. In the case of fertile soils, allow only one seedling per hole, whereas in poor soil allow two seedlings per hole.
9. TOP DRESSING
Top dress 50% of the recommended dose of N and K on 40 – 45 DAS for varieties.

Top dress 1/3rd of recommended dose of N on 40-45 DAS and the remaining 1/3rd on 60-65th DAS for hybrids.
10. RECTIFICATION OF RIDGES AND FURROWS

Reform the ridges and furrows after first top dressing in such a way that the plants are on the top of the ridges and well supported by soil.
11. SPRAYING OF NAPTHALENE ACETIC ACID (NAA)

Spray 40 ppm NAA at 60 and 90 days after sowing on the crop to prevent early shedding of buds and squares and to increase the yield.
NOTE: 40 mg of NAA dissolved in one litre of water will give 40 ppm.
12. MANAGEMENT STRATEGIES FOR DELAYED SUMMER IRRIGATED COTTON SOWING
KCI 1% spray, twice on 50 and 70 DAS for delayed sowing (first fortnight of March) of summer irrigated cotton in rice-cotton cropping system for Srivilliputhur region.
13. ARRESTING TERMINAL GROWTH

Nip the terminal portion of the main stem as indicated below:
For varieties having less than 160 days duration nip the terminal portion of the main stem beyond the 15th node (75 to 80 DAS) and for varieties and hybrids having more than 160 days duration beyond the 20th node (85 - 90 DAS).
III. WATER MANAGEMENT
Regulate irrigation according to the following growth phases of the crop.
Stages
No. of Irrigations
Days after dibbling seeds
Light soil
Heavy soil
Germination Phase(1-15 days)

Irrigate for germination

and establishment

1

Immediately after sowing

Immediately after sowing

2

Give a life irrigation on

5th day of sowing to

facilitate the seedlings

to emerge out

Give a life irrigation on

5th day of sowing to

facilitate the seedlings

to emerge out

Vegetative phase (16-44 days)

Regulate

1

Irrigate on the 20th or

21st day of sowing, three

days after hoeing and

Weeding

Irrigate on the 20th or 21st day

of sowing, three days after

hoeing and weeding

2

Irrigate again on

the 35th or 36th

day of sowing

Irrigate again on

the 40th day of

Sowing

Flowering phase (45-100days for hybrids and 87 days for varieties)

Irrigate copiously

1

48th day

55th day

2

60th day

70th day

3

72nd day

85th day

4

84th day

100th day

5

96th day

**
** For TCHB 213 and Suvin only .
Maturity phase
(beyond 100 days for hybrids and 88 days for varieties)
For all varieties other than Suvin, and TCHB 213

Control irrigation during maturity phase

1

108th day

115th day

2

120th day

130th day

3

130th day

4

144th day

Stop Irrigation after 150th day

For Suvin, TCHB213

1

108th day

115th day

2

120th day

130th day

3

132nd day

145th day

4

144th day

160th day

5

158th day

...

Stop irrigation after 160th day

NOTE:

If irrigation is given on climatological approach, Schedule the irrigation at 0.40 and 0.60 IW/CPE ratio during vegetative and reproductive phases respectively.
The irrigation schedule given above is only a guideline and regulate the irrigationdepending upon the prevailing weather condition and receipt of rains.
Adopt alternate furrow or skip furrow irrigation to save irrigation water.
The features of the methods are furnished below:

Skip furrow irrigation
Suited to heavy soils like clay and loam

Alternate furrows should be skipped and may be converted to ridges having a wide bed formation.

Short term crops like pulses may be raised in wider bed without exclusive irrigation.

Water saving is 50% when compared to control.
Alternate furrow irrigation
During any one run of irrigation a particular set of alternate furrows is irrigated.

The interval of irrigation should be shortened when compared to the conventional furrows.

During the next run, the left over furrows be irrigated.

Suited to heavy soils like clay and loam.
| | | |
| --- | --- | --- |
| Cotton cultivation under flood irrigation | Cotton cultivation under drip irrigation | Sprinkler irrigation in cotton |
IV. HARVESTING

Harvest at frequent intervals, at less than 7 days interval.
Harvest in the morning hours upto 10 to 11 a.m only when there is moisture so that dry leaves and bracts do not stick to the kapas and lower the market value.
Pick kapas from well burst bolls only.
Remove only the kapas from the bolls and leave the bracts on the plants.
After kapas is picked, sort out good puffy ones and keep separately.
Keep stained, discoloured and insect attacked kapas separately.

NOTE: Do not mix stained, discoloured and insect damaged kapas with good kapas, as they will spoil the good kapas also and lower the market value of the produce.


Harvest indices: Well burst boll ready for harvest
V. POST HARVEST OPERATIONS
Immediately after picking, dry the kapas in shade. If it is not dried immediately the colour will change which will lower the market value.

Do not dry the kapas under direct sun as the fibre strength and luster will be lost.

Grade the kapas into good and second quality ones, if it is not sorted out at the time of picking.

Spread a thin layer of dry sand on the ground and keep the kapas over it.
Crop Protection
Source
www.cicr.nic.in


Economics of Bt Cotton and Non Bt cotton in India
Vasant P.Gandhi & N.V.Namboodiri
Centre for Management in Agriculture,
Indian Institute of Management ,Ahmedabad


Comparative Assessment of Bt and non Bt cotton cultivation on farmers livelihood in Andhra Pradesh
Environmental Management & Policy Research Institute (EMPRI)
Department of Forest, Ecology & Environment,
Hasiru Bhavana, Doresanipalya Forest Campus,
Bangalore 560 078, India.


Question and Answers about Bt Cotton
K.R.Kranthi, Director,
Central Institute for Cotton Research, Nagpur,
INDIAN SOCIETY FOR COTTON IMPROVEMENT (ISCI), MUMBAI


Comparative Analysis of the Economics of Bt and Non-Bt Cotton Production
Jana Orphal
Institute of Economics in Horticulture
Faculty of Business Administration and Economics
Universitšt Hannover, Germany


Socio- Economic and Farm Level Impact of Bt Cotton in India 2002-2010
Bhagirath Choudhary
Kadambini gaur
International Service for the Acquistion of Agri-biotech Applications (ISAAA)


Kappas Plucker video - SIMA - CDRA , Coimbatore.