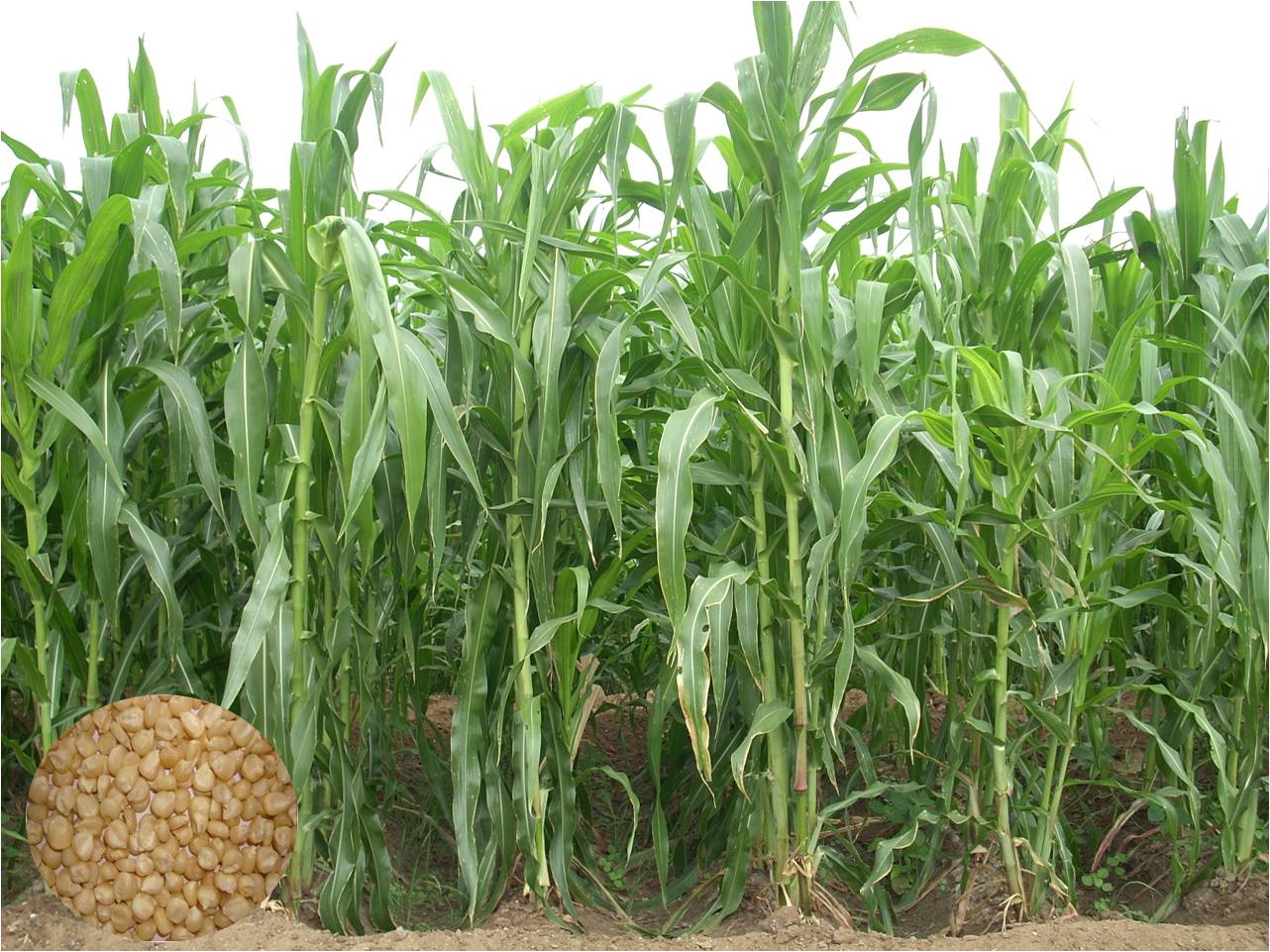 Season and Varieties
Season : Throughout the year for fodder in all districts under irrigated condition.
Varieties : African Tall (Composite variety)
Yield Potential and Quality Characters
| | |
| --- | --- |
| Characters | African Tall |
| Green fodder yield (t/ha) | 60.00 |
| Crude protein (%) | 9.80 |
| Dry matter (%) | 17.65 |
Crop Production:
1.Preparatory Cultivation
Form ridges and furrows 60cm apart after ploughing and incorporation of FYM
2.Seed Rate

3. Spacing

4. Manures and fertilizers

Basal
FYM 25t/ha ; 30:40:20 Kg NPK/ha
Top dressing
30Kg N/ha after 30 days after sowing .
5. Weed Management
First weeding at 25th DAS. Further weeding based on necessity.
6. Water Management

Immediately after planting; life irrigation on 3rd day and thereafter once in 10 days.
7. Harvest

when the cob is in the milky stage.
8. Green fodder yield

Note:
* Fodder Maize can be intercropped with CO 5 or CO (FC) 8 Cowpea at 3:1 ratio and harvested together to provide nutritious fodder.
TNAU vermicompost at 5 t/ha + 75% recommended dose of fertilizer for intercropping of maize and cowpea produces green fodder yield of 105 t/ha/yr ( 3 crops/ year) which is sufficient to maintain 7 adults and 3 young cattles. The dung obtained from these animals can be used for on farm production of 19.4 tonnes of vermicompost per year.
---
Crop Protection:
Fall armyworm Spodoptera frugiperda
Symptoms
Windowing symptom.
Heavy defoliation and large amount of faecal matter in the plant whorl.
Bore holes in the developing internodes, damage on ear head.
Identification of Insect Pests
Egg : Dome shaped with flattened base.
Larva : Greenish with black head later darker, four black spots at tail end, White inverted "Y" mark on head.
Pupa : Obtect type and reddish brown in color.
Adult : Forewing : Male: Brown Female: Grayish brown Hind wing: Male and Female: Iridescent silver-white
Management
Deep ploughing and application of neemcake @ 250 kg per ha.
Timely sowing and avoid staggered sowing. Follow crop rotation .
Seed Treatment: Thiamethoxam 30 FS @ 10g or Beauveria bassiana @ 10 g per kg of seed or cyantraniliprole 19.8 % + thiomethoxam 19.8 % @ 4 ml/kg seed .
Border crop: cowpea, sunflower, gingelly and marigold .
Spray with Azadirachtin 1500 ppm at early stage.
Anthracnose and red rot (Colletotrichum graminicolum)
Field diagnostic symptoms
Small red or purple spots on both surfaces of the leaf.
White spot encircled by brown margin.
Favourable conditions
Survival and Mode of Spread
Spread through seed and air-borne conidia and infected plant debris.
Integrated Disease Management
Seed Production
Land Requirement
Land should be free from volunteer plant.
The previous crop should not be the same variety or other varieties of the same crop.
It can be the same variety if it is certified as per the procedures of certification agency.
Isolation
For certified quality seed production, a distance of 200 m (African Tall) all around the field from the same and other varieties of the crop should adopted.
Seed rate :20 kg/ha.
Spacing : 60 x 20 cm (65 x 15 cm)
Fertilizer requirement: Apply NPK @ 175 : 90 : 90 kg / ha + 25 kg ZnSO4 / ha as basal
Harvest
Seeds attained physiological maturity on 40th day after anthesis.
Seed Treatment
Carbendazim @ 2 g / kg of seed along with carbaryl @ 200 mg / kg of seed.
Treat the seeds with halogen mixture (CaOCl2 + CaCO3 + arappu leaf powder mixed in the ratio of 5:4:1 @ 3 g / kg as eco-friendly treatment.
Storage
Short term storage in gunny/cloth bag (8 - 9 months) with 9-10% moisture content .
Medium term storage in polylined gunny bag (12 - 15 months) with 8 - 9 % moisture.
Long term storage in 700 gauge polythene bag (> 15 months) with <8% moisture. .