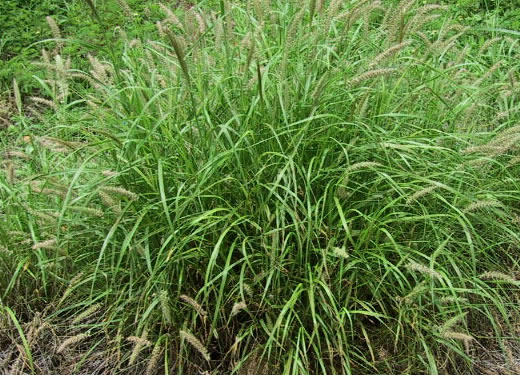 Season and Varierties
District/Season
Month
Variety
All Districts
North-East Monsoon

Oct - Dec

CO 1
Yield Potential and Quality Characters
PARTICULARS
CO 1
Parentage
Clonal selection from Vellakoil local (FS 391)
Duration (Days)
Perennial
Green fodder yield (t/ha/year)
40 (4 cuts)
Seed yield (kg/ha/year)
55 - 60
Morphological characters
Plant height (cm)
120-130
Number of tillers
60-65
Number of leaves
550--600
Leaf length (cm)
25-30
Leaf width (cm)
0.8-1.0
Leaf stem ratio
0.93
Quality characters
Dry matter (%)
28.00
Crude protein (%)
9.06
Crude fibre (%)
34.6
Phosphorus (%)
0.26
Calcium (%)
0.58
Manganese (ppm)
56
IVDMD (%)
49.4
PREPARATORY CULTIVATION
1. SOIL TYPE

Well drained soil with high calcium content is suitable.
2. PLOUGHING

Plough the field twice or thrice with an iron plough to ensure good tilth.
3. APPLICATION OF FYM

5 t/ha
4. APPLICATION OF FERTILIZER
a. Apply NPK fertilizers as per soil test recommendations. If the soil test is not done, follow the blanket recommendation of 25: 40: 20 kg N, P and K per hectare.
b. Basal dressing: Apply full dose of NPK before sowing.
c. Top dressing: After every harvest apply 25 kg N/ha during the rainy season.
5. SOWING
a. Seed rate: 6 - 8 kg/ha or 40,000 rooted slips/ha.
b. Spacing: 50 x 30 cm.
Fresh seeds have dormancy for 6 - 8 months. To break dormancy, soak the seeds in 1 % potassium nitrate solution for 48 hours prior to sowing.
6. WEED MANAGEMENT
Hand weeding can be done as and when necessary.
7. HARVEST
First cut on 70th or 75th day after sowing and subsequent 4 - 6 cuts depending on growth.
8. INTER CROPPING
Highly drought resistant legume fodder, Kolukattai grass can be intercropped with Stylosanthes scabra in the ratio of 3:1.
9. GREEN FODDER YIELD:
A pure crop yields 40 t/ha/year in 4 - 6 cuts.