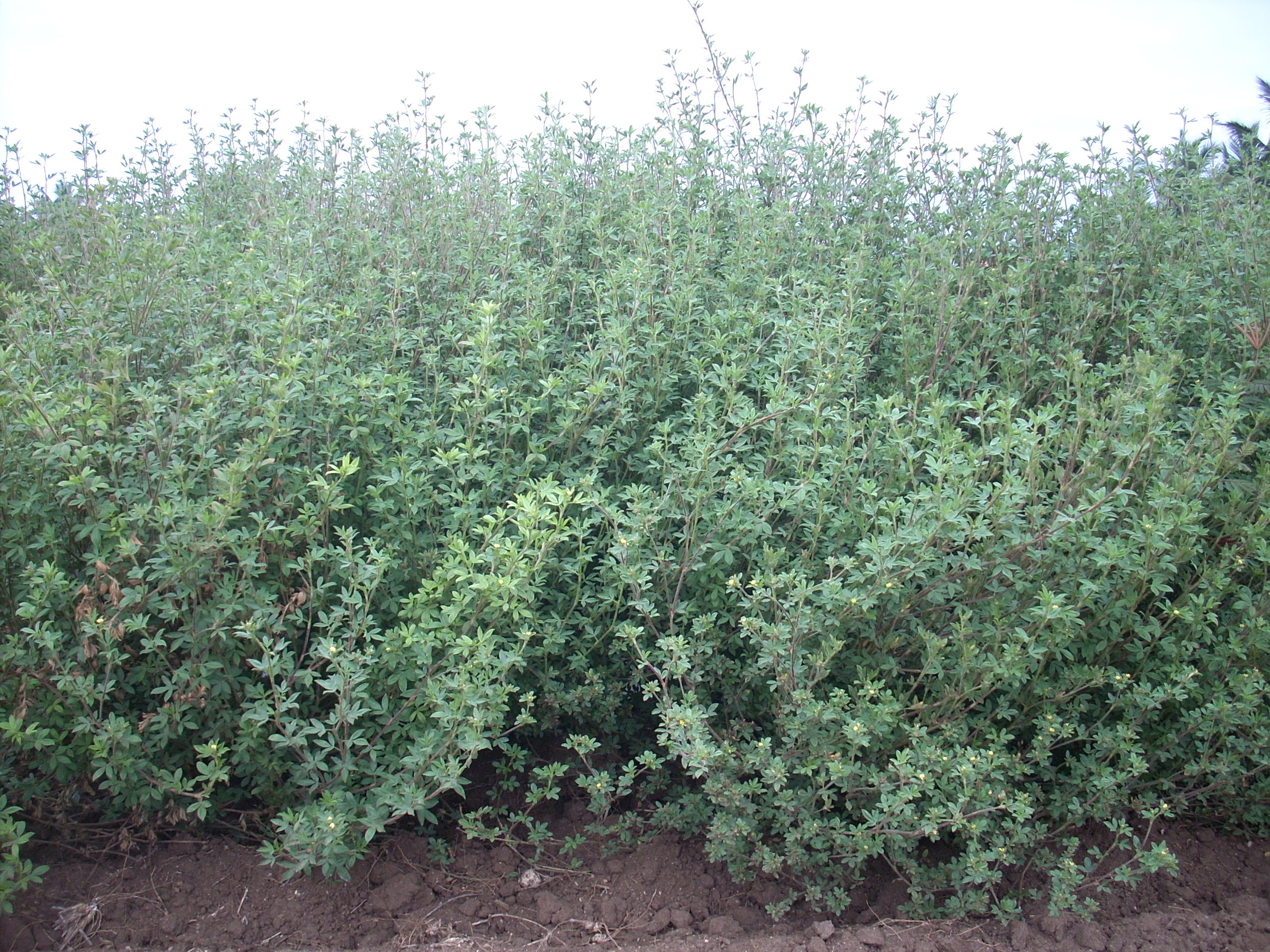 VARIETIES : S.hamata (Annual), S.scabra (Perennial)

SEASON : June - July to September - October.
PREPARATORY CULTIVATION

1. PLOUGHING
Plough the field two to three times to obtain good tilth.
2. APPLICATION OF FYM
Apply and spread 10 t/ha of FYM or compost
3. FORMING BEDS
Form beds of size 10 m2 or 20 m2
4. APPLICATION OF FERTILIZER
Apply full dose of NPK basally.
5. SOWING
Seed are to be treated with 3 pockets rhizobium culture (600 g/ha).
For line sowing (30 x 15 cm) the seed rate is 6 kg/ha and for broadcasting 10 kg/ha.
Stylo seeds possess hard seed coat. So acid scarification is to be done by dipping the seeds in concentrated sulphuric acid for three minutes and washing thoroughly with tap water and scarified seeds are again to be presoaked in cold water overnight. (or) Seeds can also be scarified in hot water by immersing the seeds for 4 minutes in hot water of 80º C and the seeds are again to be presoaked in cold water overnight.
6. WATER MANAGEMENT
It is a rainfed crop. But during the period of establishment, care should be taken to provide sufficient moisture.
7. WEED MANAGEMENT
Hand weeding may be given as and when necessary.
8. HARVESTING
First harvest can be taken 75 days after sowing at flowering stage and subsequent harvests depending upon the growth.
9. GREEN FODDER YIELD
It is to be noted that during the first year, the establishment after sowing is very slow and the yield is low. Later on when the crop establishes well due to self seeding, it yields about 30 to 35 t/ha/year from the third year onwards.

SEED PRODUCTION
LAND REQUIREMENT
Land should be free of volunteer plants. The previous crop should not be the same variety or other varieties of the same crop. It can be the same variety if it is certified as per the procedures of certification agency.
ISOLATION
For certified / quality seed production leave a distance of 25 m all around the field from the same and other varieties of the crop.
SOWING SEASON
PRE-SOWING SEED TREATMENT
Scarify the seeds with conc. H2SO4 acid @ 200 ml / kg-1 for 4 min for removal of seed coat dormancy.
Fortify the seed with KNO3 0.25% for 3 h after dormancy breaking to improve germination.
SEED EXTRACTION
Extract the seeds using paddy dehusker by maintaining 0.2 mm clearance between the rotating discs.
GRADING
Grade the seeds using BSS 16 x 16 wire mesh sieve.
Storage
Store the seeds in gunny or cloth bags for short term storage (8-9 months) with seed moisture content of 8 - 10%.
Store the seeds in polylined gunny bag for medium term storage (12- 15 months) with seed moisture content of 8 – 9 %.
Store the seeds in 700 gauge polythene bag for long term storage (more than15 months) with seed moisture content of less than 8%.
OTHER MANAGEMENT PRACTICES
As in crop management technique