Cumbu (Pennisetum glaucum)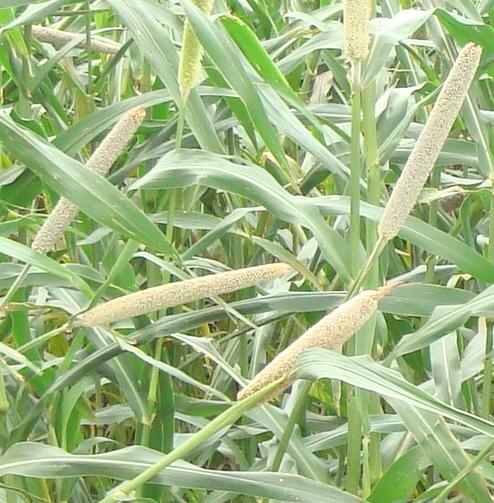 I. SEASON AND VARIETIES
Districts/Season
Varieties/Hybrid
1. IRRIGATED
i. Chithiraipattam (March-April)
All pearl millet growing districts except Nilgiris
CO 7, CO (Cu) 9, X 7, ICMV 221, TNAU cumbu hybrid, Co 9
ii. Masipattam (January-February)
All pearl millet growing districts except the Nilgiris,
CO 7, CO (Cu) 9, X 7, ICMV 221, TNAU cumbu hybrid Co 9
2. RAINFED
i. Adipattam (June-July)
CO 7, CO (Cu) 9, X 7, ICMV 221, TNAU cumbu hybrid Co 9
ii. Purattasipattam (September -October)
CO 7, CO (Cu) 9, X 7, ICMV 221, TNAU cumbu hybrid Co 9
II. PARTICULARS OF CUMBU HYBRIDS AND VARIETIES
PARTICULARS

CO 7

X 7

CO (Cu) 9

Parentage
(CO 6 x PK 560) PT 1921
L111 A x PT 1890
Selection from
ICMV 93752
Season-irrigated/ rainfed
Both
Both
Both
Duration (Days)
90 - 100
90
80-85
Grain yield (kg/ha)
Rainfed
2500 - 2800
2513
2354
Irrigated
3000 - 3500
3295
2865
Plant height (cm)
130 - 145
155 - 180
186-222
Tillers (No.)
6 - 10
4 - 7
3-6
Pigmentation
Green
Non­- pigmented
--
Hairiness
Glabrous
Glabrous
Glabrous
Days to 50% bloom
65 - 70
50 - 55
50-55
Shape of earhead
Conical/ cylindrical/ spindle
Candle
Candle to cylindrical
Bristles
Nil
—
Absent
Length of earhead (cm)
22 - 26
25 - 35
33-39
Breadth of earhead (cm)
3 - 4
—
8-10
Grain colour
Slate colour
Slate
Grey seed with yellow base
1000 grains weight (gm)
6.8 - 7.2
8.0 - 9.0
9-11
Special features
Resistant to downy mildew
Resistant to downy mildew
Resistant to downy mildew
PARTICULARS

ICMV 221

TNAU cumbuhybrid CO 9

Parentage
ICRISAT Composite
ICMA 93111A x PT 6029-30
Season-irrigated/ rainfed
Both
Both
Duration (Days)
75-80
75-80
Grain yield (kg/ha)
Rainfed
13% >ICTP 8203
2707
Irrigated
--
3728
Plant height (cm)
140-200
160-180
Tillers (No.)
3-5
4-6
Pigmentation
--
--
Hairiness
Absent
Glabrous
Days to 50% bloom
50-55
45-50
Shape of earhead
Semicompact to compact lanceolate to oblanceolate
Candle to Cylindrical
Bristles
Usually non bristled
Absent
Length of earhead (cm)
--
25-35
Breadth of earhead (cm)
Wide in girth
3.1-3.6
Grain colour
Dark grey
Greyish yellow
1000 grains weight (gm)
10-15
13-14
Special features
Resistant to downy mildew

Short duration Resistant to downy mildew
CUMBU (Pennisetum glaucum (L) R. Br. )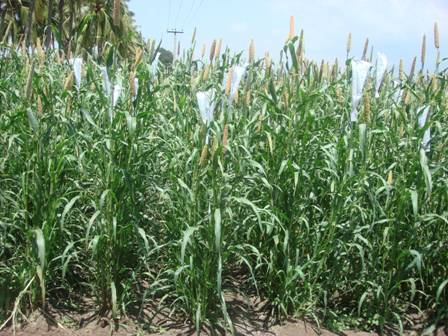 CROP MANAGEMENT

NURSERY
1. PREPARATION OF LAND
For raising seedlings to plant one ha select 7.5 cents near a water source. Water should not stagnate.
Plough the land and bring it to the fine tilth.
2. APPLICATION OF FYM
Apply 750 kg of FYM or compost and incorporate by ploughing. Cover the seeds with 500 kg of FYM.
3. FORMING RAISED BED
In each cent mark 6 plots of the size 3 m x 1.5 m with 30 cm channel in between the plots and all around.

Form the channel to a depth of 15 cm.

Spread the earth excavated from the channel on the beds and level.
NOTE: The Unit of 6 plots in one cent will form one unit for irrigation.
4. REMOVAL OF ERGOT AFFECTED SEEDS AND SCLEROTIA TO PREVENT PRIMARY INFECTION
5. TREATMENT OF THE NURSERY BED WITH INSECTICIDES

Apply phorate 10 G 180 g or Carbofuran 3 G 600 g mixed with 2 kg of moist sand, spread on the beds and work into the top 2 cm of soil to protect the seedlings from shootfly infestation.
6. SOWING AND COVERING THE SEEDS
Open small rills not deeper than 1 cm on the bed by passing the fingers over it.

Sow 3.75 kg of seeds in 7.5 cents (0.5 kg / cent) and use increased seed rate upto 12.5 kg per ha in shootfly endemic area and transplant only healthy seedlings.

Cover the seeds by smoothening out the rills with hand. Sprinkle 500 kg of FYM or compost evenly and cover the seeds completely with hands
NOTE: Do not sow the seeds deep as germination will be affected.
7. IRRIGATION TO THE SEED BED
Provide one inlet to each unit of 6 plots to allow water in the channels.
Allow water to enter the channel and rise up in it. Turn off the water when the raised bed is wet.
Irrigate as per the following schedule.
Light Soil

Heavy Soil

1st

immediately after sowing

Immediately after sowing

2nd

on 3rd day after sowing

On 3rd day after sowing

3rd

on 7th day after sowing

On 9th day after sowing

4th

on 12th day after sowing

On 16th day after sowing

5th

on 17th day after sowing
PROTECTION OF SEEDLINGS IN THE NURSERY FROM PEST ATTACK
If seed bed is not treated before sowing, protect the nursery by applying any one of the insecticides given below on the 7th and 14th day of sowing by mixing in 6 litres of water.; Methyl demeton 25 EC 12 ml, Dimethoat 30 EC 12 ml.
Note:
The seedlings should not be kept in nursery for more than 18 days. Otherwise the establishment and yield will be affected adversely.

Ensure that cracks should not develop in the nursery. This can be avoided by properly adjusting the quantity of irrigation water.
PREPARATION OF MAIN FIELD
1. FIELD PREPARATION
| | |
| --- | --- |
| i. | Plough with an iron plough twice and with country plough twice. Bring the soil into fine tilth. |
| ii. | CHISELING FOR SOILS WITH HARD PAN: Chisel the soils having hard pan formation at shallow depths with chisel plough at 0.5m interval, first in one direction then in the direction perpendicular to the previous one, once in three years. |
2. APPLICATION OF FYM OR COMPOST
Spread 12.5 t/ha of FYM or compost or composted coir pith uniformly on unploughed soil. Incorporate the manure by working the country plough and apply Azospirillum to the soil @ 10 packets per ha (2000 g) and 10 packets (2000g) of phosphobacteria (or) 20 packets (4000g) of azophos with 25kg of soil and 25 kg of FYM.
3. FORMING RIDGES AND FURROWS/BEDS
Form ridges and furrows (using 3 ridges) 6 m long and 45 cm apart. If pulses is intercropped, form ridges and furrows 6 m long and 30 cm apart.

If ridge planting is not followed, form beds of the size 10 m2 or 30 m2 depending upon water availability.

Form irrigation channels.

To conserve soil moisture under rainfed condition, sow the seeds in flat and form furrows between crop rows during intercultivation on third week after sowing.
4. APPLICATION OF FERTILIZERS
Apply NPK fertilizers as per soil test recommendations as far as possible. If soil test recommendation is not available follow the blanket recommendation of 70:35:35 kg N, P2O5, K2O/ ha for all varieties. For hybrids, apply 80 kg N, 40 kg P2O5 and 40 kg K2O per ha. Apply the recommended N in three splits as 25:50:25 per cent at 0,15 and 30 DAS and full dose of phosphorus and potassium basally. Combined application of azospirillum and phosphobacteria or azophos along with 75 per cent of the recommended level of N and P is recommended for rainfed conditions.
Method of application: For transplanted crop, open a furrow more than 5 cm deep on the side of the ridge (1/3 distance from the bottom), place the fertilizer and cover. For the direct sown crop, mark the lines more than 5 cm deep 45 cm apart in the beds. Place the fertilizer below 5 cm depth and cover upto 2 cm from the top before sowing. In the case of intercropping with pulses, mark lines more than 5 cm deep 30 cm apart in the beds. Apply fertilizer only in the rows in which cumbu is to be sown and cover upto 2 cm. When azospirillum inoculant is used for seeds, seedlings use only 50 kg N/ha for variety, 60 kg N/ha for hybrid, as soil application in other words, reduce 25% N of soil test recommendations.
5. APPLICATION OF MICRONUTRIENT MIXTURE
Apply 12.5 kg/ha of micronutrient mixture formulated by the Department of Agriculture. Mix the mixture with enough sand to make 50 kg and apply on the surface just before planting/after sowing and cover the seeds. Broadcast the mixture on the surface to seed line. If micronutrient mixture is not available apply 25 kg of zinc sulphate per ha. Mix the chemical with enough sand to make 50 kg and apply as above.
MANAGEMENT OF MAIN FIELD
1. TRANSPLANTING SEEDLINGS OR SOWING PRE-TREATED SEEDS Transplanted Crop

Pull out the seedlings when they are 15 to 18 days old.

Adopt the spacing 45 x 15 cm for all the varieties.

Plant seedlings on the side of ridge, half way from the bottom. Depth of planting should be 3 to 5 cm.

Root dipping with bio-fertilizers: Prepare the slurry with 5 packets (1000 g)/ha of Azospirillum inoculant and 5 packets (1000g/ha) of phosphobacteria or 10 packets of azophos (2000g/ha) in 40 lit. of water and dip the roots of the seedlings 15 - 30 minutes before planting.
Direct sown crop
Soaking of cumbu seeds either in 2% Potassium chloride (KCl) or 3% Sodium Chloride (NaCl) for 16 hours followed by 5 hours shade drying improves germination and stand.
Adopt the spacing of 45 x 15 cm for all varieties. If pulse is intercropped, adopt a spacing of 30 x 15 cm for cumbu and 30 x 10 cm for pulses. One pair row of cumbu is alternated with a single row of pulse crop.

In the furrows in which fertilizers have been applied, place 5 kg of seed, allowing them to fall 4 - 5 cm apart (Use higher seed rate of 5 kg to offset mortality). The optimum population should be 1, 45,000 per ha. Use increased seed rate upto 12.5 kg per hectare in shoot fly endemic area and remove the shootfly damaged seedlings at the time of thinning.
Where pulse seeds are to be sown, drop pulse seeds to fall 5 cm apart and cover.
2. WEED MANAGEMENT
Transplanted crop
Spray PE Atrazine 0.25 kg/ha on 3 DAT followed by one hand weeding on 30 - 35 DAT. If herbicide is not used hand weeding twice on 15 DAT and 30 - 35 DAT.
Direct Sown crop
Apply the PE Atrazine 0.25 kg/ha on 3 DAS as spray on the soil surface using Back-pack/Knapsack/Rocker sprayer fitted with flat type nozzle using 500 litres of water/ha.

Apply herbicide when there is sufficient moisture in the soil.

Hand weed on 30 - 35 days after sowing if pre-emergence herbicide is applied.

If pre-emergence herbicide is not applied hand weed twice on 15 and 30 days after sowing.
3. THINNING AND GAP FILLING
In direct sown crop after 1st weeding at the time of irrigation, gap fill and thin the crop to a spacing of 15 cm between plants; cowpea crop to 20 cm between plants and other pulses crops to 10 cm between plants.
4. TOP DRESSING OF FERTILIZERS
Top dress the nitrogen at 15 and 30 days after transplanting or direct sowing.
In transplanted crop, open a furrow 5 cm deep with a stick or hoe at the bottom of the furrow, place the fertilizer and cover.
In the case of direct sown crop apply the fertilizer in band. If intercropped with pulses apply the fertilizer to cumbu crop only.
After the application of fertilizer, irrigate the crop.
WATER MANAGEMENT
STAGES
Days after transplantation/sowing
Transplanted Crop
Direct Sown Crop
Light Soils

i. Germination

1st day after transplanting

1st day after sowing

4th day

4th day

ii. Vegetative phase

15th Day

17th day

28th day

30th day

iii. Flowering phase

40th day

42nd day

52nd day

55th day

65th day

68th day

iv. Maturity phase

77th day

79th day

Total
8 irrigations
8 irrigations
Heavy Soils

i. Germination

1st day after planting

1st day after sowing

4th day

5th day

ii. Vegetative phase

15th day

15th day

28th day

30th day

iii. Flowering phase

42nd day

45th day

54th day

57th day

iv. Maturity Phase

66th day

70th day

Total
7 irrigations
7 irrigations
NOTE: This is only a guideline and the irrigation schedule is to be adjusted depending upon the prevailing weather conditions.
HARVESTING THE CROP
1. SYMPTOMS OF MATURITY
Leaves will turn yellow and present a dried appearance.

Grains will be hardened.
2. HARVESTING
Cut the earheads separately.

Cut the straw after a week, allowing it to dry and stack it in the field till it can be transported.
3. THRESHING, CLEANING, DRYING AND STORING
Dry the earheads
Thresh in a mechanical thresher or
Spread it and drag a stone roller over it or
Cattle thresh.
Dry the seeds below 10 per cent and mix 100 kg of grains with 1kg of activated kaolin to reduce the rice weevil and rice moth incidence.
Spray Malathion 50EC 10 ml/ lit @ 3 lit of spray fluid/100 m2 over the bags during storage godowns,
For grain purpose the grain should be dried well below 10% moisture and stored in gunny bags.
Crop Protection
Post Harvest Technology
Bajra also known as cumbu, pearl millet is the predominant crop in India. It has the same quantity of protein as wheat. The protein contains a high proportion of prolamine followed by the globulin and albumins. Pearling of bajra to about 8% polish leaves most of the germs intact and the nutritive value is not seriously affected. Pearling improves appearance and taste of the products. The grain is sometimes eaten after it is parched, the product being similar to popcorn. The grain is also suitable for the preparation of malt. It is consumed after dehusking and cooked in the same way as rice. More commonly it is ground into flour and made into chappathi. It is also made into thin porridge.
Click for more inforamtion