IMPORTANT GREENHOUSE GASES
Greenhouse gases are gases in an atmosphere that absorb and emit radiation within the thermal infrared range. This process is the fundamental cause of the greenhouse effect. Common greenhouse gases in the Earth's atmosphere include water vapor, carbon dioxide, methane, nitrous oxide, ozone, and chlorofluorocarbons.
In our solar system, the atmospheres of Venus, Mars and Titan also contain gases that cause greenhouse effects.
Greenhouse gases, mainly water vapor, are essential to helping determine the temperature of the Earth; without them this planet would likely be so cold as to be uninhabitable. Although many factors such as the sun and the water cycle are responsible for the Earth's weather and energy balance, if all else was held equal and stable, the planet's average temperature should be considerably lower without greenhouse gases.
Data showing the increasing concentration of Greenhouse Gases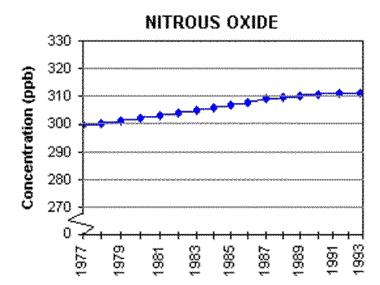 CO2 is steadily increasing at the rate of about 1 ppm per year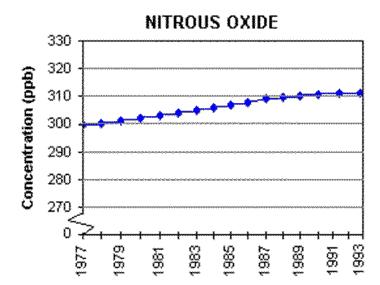 NOx is leveling off due to pollution abatement on vehicles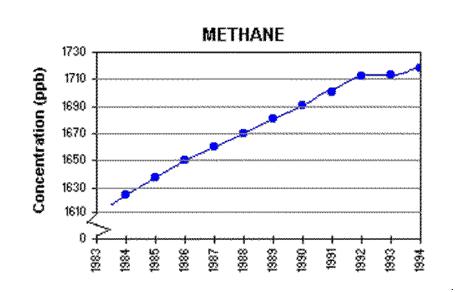 CH4 is only recently been measured. Rate of increase is about 10 ppb per year. However, since 1 CH4 molecule is worth 25 CO2 molecules, the equivalent growth rate in terms of CO2 is 2.5 ppm. Thus methane will eventually be the dominant enhanced greenhouse gas in our atmosphere.
Greenhouse gases in Earth's atmosphere
In order, Earth's most abundant greenhouse gases are:
When these gases are ranked by their contribution to the greenhouse effect, the most important are:
water vapor, which contributes 36–72%
carbon dioxide, which contributes 9–26%
methane, which contributes 4–9%
ozone, which contributes 3–7%
The major non-gas contributor to the Earth's greenhouse effect,
clouds
, also absorb and emit infrared radiation and thus have an effect on radiative properties of the greenhouse gases. The contribution to the greenhouse effect by a gas is affected by both the characteristics of the gas and its abundance. For example, on a molecule-for-molecule basis methane is a much stronger greenhouse gas than carbon dioxide, but it is present in much smaller concentrations so that its total contribution is smaller.