Cassava Chips Cutting Machine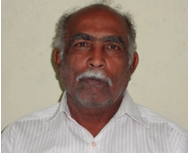 Name of Innovator
:
Mr. J. R. Dhanraj
Father's name
:

Mr. A. Ranga Swamy Goundar

Address
:
Kalkurchi (P.O.), Belukurchi
Dist- Namakkal- 637402 (Tamil Nadu)
Phone Number
:
Mobile no. +91 9443469132
Land line- 04286-246668
E mail I.D
:

dhanafarm@hotmail.com
Introduction:
The innovator Mr. Dhanaraj was born on 22nd  September 1947, he belongs to Belukurchi of Namakkal district. He is educated upto 12th standard. With this education he started to involve himself in farming.  His family consists of three members, his wife ,son and daughter. Both his son and daughter have got married. And presently Mr. Dhanraj and his wife resides with their son. His son is a Agriculture graduate and completed his masters degree in Horticulture and he is working as an Agriculture Officer at the same place. Mr. Dhanraj owns 10 acres of land and one calf and cow. He has got 35 years experience in farming. The crops cultivated are sugarcane, tapioca and mango. He said that Agriculture is the back bone of our country, but there are various problems viz., youth migration, population involving in Agriculture is decreasing, labour problem , water scarcity etc. As a solution to problems he has innovated a few of them.
The operation of  the Cassava Chips Cutting Machine viewed by the  District  Collector, Namakkal and Program Coordinator, KVK, Namakkal
About his innovation:          
1.TAPIOCA CHIPS CUTTING MACHINE
The Tapioca (Cassava) was one of the major crops cultivated in Salem, Namakkal and other parts of Tamil Nadu. It is grown for industrial and edible purpose. During, 2011-12, the sale price of tuber reduced to lower rate which is uneconomical to farmers.  In this back ground, the officials from state government (Agriculture) took an initiative  to protect the interest of tapioca farmers. And the solution to the problem was in situ processing / value addition of tapioca, and this in turn has helped the tapioca farmers  and the biological deterioration of starch has minimized to larger extent.
This has stimulated Mr. Dhanraj to innovate a cassava chips cutting machine which had easen the task of value addition. This was welcomed by other farmers and the district collector has appreciated his noval idea and he was awarded by National Innovation Foundation –SRISTI SAMAN award for his innovation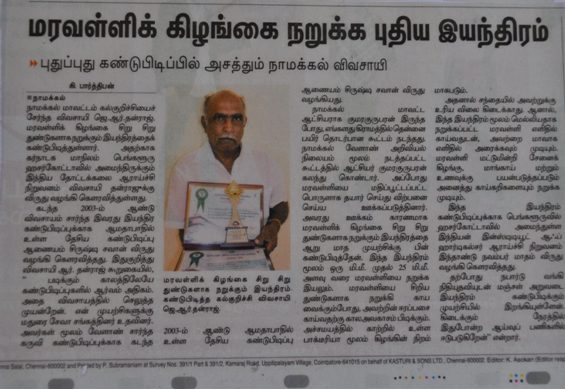 His innovation Published in the Hindu newspaper on 9th December, 2013
Technical specification:
It needs less electrical power (less than 1 Hp)

The cost incurred to make the  machine is Rs. 10,000

Fabrication- Local lathe works is enough to make the machine

Capacity of the machine: The machine can cut 200 kg of chips per hour if single pipe is used and 400 kg of chips can be cut if double pipe is used.

The chips will be uniformly dried and hence  degradation of starch is reduced this is the main advantage in this value addition  

The size of the chips ranges from 2mm to 25 mm thickness

One machine with the same principle has been given to Malabar kings, Kerala- who are exporting raw tapioca (frozen) to gulf countries.
| | |
| --- | --- |
| Recognitions/Awards: | AGRI INTEX -2003, and SRISTI SAMAN Award |
| Contacts Institution | TNAU, Coimbatore, KVK, Namakkal , SEVA NGO, Madurai NABARD, Namakkal & National Innovation Foundation, New delhi  Processing (Ghani) and Flour Mill (as cottage industry). |
| Proactive :        | Adopting new technology – Arranging meeting for grassroot innovation, drip irrigation, Submitted application for grant –turmeric harvester machine (New) under NABARD-RIF |
| | |
| --- | --- |
| | |
| Mr. Dhanraj at the stall exhibiting his Cassava cutting machine | Mr. Dhanraj with his awards for his innovation |

USES OF CASSAVA CHIPS CUTTING MACHINE
It can be transported from one place to another quickly.

Needs minimum labour for processing.

The chips thickness can be altered from 1 mm to 25 mm (at uniform size).

Locally made with available materials.

The chips can be used for cattle feed without any contamination (manually cut chips chips can be contaminated with - sand, iron, etc).

There are very low chances of accident.

The electricity driven motor can be replaced with oil engine (petrol or diesel engine) hence the capacity can be increased.

It can be used for cutting / slicing vegetables at home or industry

It is gender friendly

The mangoes which are fallen off are collected sliced and preservatives (common salt) are added and dried and converted into edible purpose.
Demonstration of the chips cutting machine
At his Cassava field
Drip Irrigation at his field