Pest Control in Moringa field:
Profile:                                                                
Mr.C.Rajagopal of Nattahti villages has expressed his success in controlling of Moringa (Drumstick) pest (leaf webber and fruitfly) using a technique of attracting birds to hid Moringa field. He is having 19.5 acres of land, of which 5 acres under Moringa cultivation. Three years back he has sprayed lot of chemicals to control pests in Moringa. He has attended 'off campus' training at Tiruchendur conducted by our Kendra during 2011. In that meeting  Mr. M.Ashokumar, SMS (PP) of our SCAD KVK explained about the technique of attracting birds to eat away the pupa and larva of Moringa pests.

As per this simple technique, five feet height stick is installed at about 10-12 places per acre and on which the lower portion of coconut shell is to be placed and filled with grains like rice for attracting small birds. After few days of attracting birds, the quantity of rice has to be reduced, so that the birds are diverted to search some other food like larva and pupa of insect pests. He has practiced this technique on his drumstick field and succeeded in a greater way that he is not at all spraying any pesticides and he has the "Title" as only man who maintains Moringa fields without chemical spray in that area.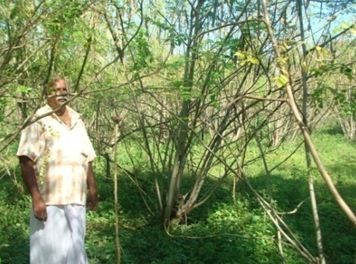 He is also proudly telling his success to others in every meeting and others are surprised of this technique because he is maintaining proper records of expenditure and income from his Moringa. Now neighboring farmers has started doing this practice even for others crops like gourds. Our Kendra is taking sincere efforts to upscale this kind of 'no cost' or low cost techniques to contain crop pests.
Thanks letter written to SCAD KVK is furnished below
R
ecent Updates
Source:
Krishi Vigyan Kendra
Social Change and Development (SCAD)
Vagaikulam, Thoothukudi-628102
Phone and Fax: 0461-2269306,
Phone: 04630-293143