Integrated Child Development Services (ICDS) Scheme

Launched on 2nd October 1975 in 33 Community Development Blocks, ICDS today represents one of the world's largest programmes for early childhood development. ICDS is the foremost symbol of India's commitment to her children – India's response to the challenge of providing pre-school education on one hand and breaking the vicious cycle of malnutrition, morbidity, reduced learning capacity and mortality, on the other.
It is an inter-sectoral programme which seeks to directly reach out to children, below six years, especially from vulnerable and remote areas and give them a head-start by providing an integrated programme of early childhood education, health and nutrition. No programme on Early Childhood Care and Education can succeed unless mothers are also brought within it ambit as it is in the lap of the mother that human beings learn the first lessons in life.
Objectives of ICDS:
Lay the foundation for proper psychological development of the child

Improve nutritional & health status of children 0-6 years

Reduce incidence of mortality, morbidity, malnutrition and school drop-outs

Enhance the capability of the mother and family to look after the health, nutritional and development needs of the child

Achieve effective coordination of policy and implementation among various departments to promote child development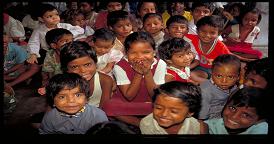 Services
The Scheme provides an integrated approach for converging basic services through community-based workers and helpers. The services are provided at a centre called the 'Anganwadi'. The Anganwadi, literally a courtyard play centre, is a childcare centre, located within the village itself. A package of following six services is provided under the ICDS Scheme:
Supplementary nutrition

Non-formal pre-school education

Immunization

Health Check-up

Referral services

Nutrition and Health Education
The three services namely immunization, health check-up and referral are delivered through public health infrastructure viz. Health Sub Centres, Primary an Community Health Centers under the Ministry of Health & Family Welfare.
Target Groups & Service Provider
| | | |
| --- | --- | --- |
| Services | Target Group | Services Provided By |
| Supplementary Nutrition | Children below 6 years; pregnant and lactating mothers | Anganwadi Workers (AWW) & Anganwadi Helper (AWH) |
| Immunization* | Children below 6 years; pregnant and lactating mothers | ANM/MO |
| Health Check-ups* | Children below 6 years; pregnant and lactating mothers | ANM/MO/AWW |
| Referral | Children below 6 years; pregnant and lactating mothers | AWW/ANM/MO |
| Pre-School Education | Children 3-6 years | AWW |
| Nutrition & Health Education | Women (15-45 years) | AWW/ANM/MO |
* AWW assists ANM in identifying and mobilizing the target group
In Tamil Nadu, the Integrated Child Development Services Scheme (ICDS) has 434 Projects
with 47,265 Children Centres and 3168 Mini centres, totalling 50,433 centres. Out of 434 projects, 47 are in urban, 2 in Tribal and 385 in rural areas. As per the revised norms, minimum population must be 400 and there must be One Child centre for 400-800 population in Urban and Rural areas and one centre for every 300-800 population in Tribal areas, and one Mini-centre for 150-400 population in Urban and Rural areas and one Mini-centre for every 150-300 population in Tribal areas.
For more information click on the following links
www.icds.gov.in/
http://india.gov.in/citizen/health/viewscheme.php?schemeid=445
http://india.gov.in/citizen/health/viewscheme.php?schemeid=445