District Agricultural Plan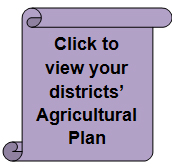 Tamil Nadu has been surging ahead steadily and strongly to become one of the most socially and economically progressive States in the country.  In spite of significant economic achievement by the State, it is a fact that the pattern and nature of growth process in the State has been somewhat skewed with spatial and sectoral imbalances.  In order to achieve the desired growth rate in agricultural sector it was resolved that agricultural strategies must be reoriented to meet the needs of farmers rather than increasing agricultural production alone.
Accordingly, a new Additional Central Assistance Scheme named National Agricultural Development Programme (NADP) has been introduced to incentivise the states to draw up plans for agricultural sector more effectively taking into account the agro-climatic conditions, natural resources base, the felt needs of the people and technology, besides integrating livestock, poultry and fisheries more fully.
It is also suggested that each district should prepare District Agriculture Plan that would present the vision for Agriculture and allied sectors.  Such plans should also provide the overall development perspective of the district apart from financial requirement and sources of financing the agriculture development.
The Government of India also indicated that while preparing these District plans, the guidelines issued for preparing Comprehensive District Agriculture Plan (C-DAP) may also be adopted.
Based on the above guidelines, the District Agriculture Plan for 29 districts of Tamil Nadu (with the exception of Chennai and the Nilgris) is prepared.
THE APPROACH 
The preparation of District Agriculture Plan involved collection of base line data, a series of sensitization workshops at village / block and district level, discussion meetings with the development department officials to identify major interventions, local initiatives and priority setting and development of action plans and proposals.  The draft action plan thus prepared was presented in the District Collectors Meetings held in each district under the chairmanship of District Collector.  The feed back received in the District Collectors Meeting, recommendations and relevant details based on Strategic Research Extension Plan and Agriculture Technologies Management Agencies have also been considered for preparing the District Agriculture Plan.   The District Agricultural Plan has ultimately formed the basis for preparation development programmes for implementation under NADP.
DEVELOPMENT ISSUES
In what follows, the various development issues and approaches to tackle them in different sectors identified are detailed.
Agriculture
Current fallows, cultivable waste and uncultivable lands and area under problem soils are found in all the districts.  There is a predominance of farmers with marginal and small holdings.  Based on these ground realities, following approaches to the development issues are identified.
Minimizing area under fallows
Bringing cultivable waste areas under some field crops or tree crops
Developing the capacity of small farmers to undertake cultivation of   economically viable crops and allied sector enterprises

Development and reclamation of sandy, less productive and problem 
Soils
The fertility status of soils in general is poor in most of the districts. Monitoring the change in fertility status of the soils is an important issue for consideration for promotion of soil test based nutrient management.
Integrated farming system with the inclusion of dairy / small ruminants /  fishery / poultry components with crop husbandry
Diversification of cropping systems by including cash crops, horticultural crops like fruits, vegetables and flower crops along with food grains to ensure food and nutritional security.
Stress on Organic farming system involving recycling  of farm wastes, use of green and green leaf manure, vermicompost use of bio-inputs including and adoption of biocontrol measures in plant protection
Stress on alternate land use system with agroforestry, biofuel crops, forage crops and medicinal plants.
Capacity building of all the stake holders in Agriculture and allied sectors
Emphasis on value addition of agricultural and horticultural crops
Weather based farm advisory services and
Promoting crop insurance including weather based crop insurance products.
Horticulture
Increasing the area and productivity of Horticultural crops
Covering the reclaimed wastelands with drought tolerant fruit trees
Making available good quality planting material.
Precision farming and
Post harvest management to reduce losses, particularly, of perishables
Agricultural Engineering
Incentivising mechanization to overcome acute labour shortage
Water conservation, micro-irrigation and fertigation techniques to overcome scarcity of irrigation water for crop husbandry and to optimize use of nutrients and
Pooling of available machinery for use by small and marginal farmers through custom hiring
Animal Husbandry
Acute shortage of Feed and Fodder, particularly in the context of declining area under pastures
Outbreak of diseases in cattle and small ruminants
Lack of knowledge on value addition of milk and other dairy products
Inadequate milk procurement and distribution system
Lack of knowledge on the scientific rearing of calves and magnetic milk production.
Fishery
Diversification of fishing methods
Lack of knowledge of modern fish culture techniques
Restoration of mangroves and
Research and developments for value addition with low cost techniques
Agricultural Marketing
Improving infrastructure facilities for marketing including storage and transportation and
Market intelligence system and
Empowering farmer by organizing grower association
INTERVENTIONS
To address the above issues, the following interventions have been proposed in the District Agriculture Plans.
Agriculture
Integrated Rice Productivity Improvement Programme
Integrated Soil Health Management
Integrated Pest Management including bio control measures in plant protection
Distribution of Hybrid seed, micronutrient mixture, green manure seeds and bio-fertilizers
Establishment of Agri-clinic cum – Mini soil testing labs
Enriched FYM preparation and demonstration
Establishment of model farms to demonstrate latest cultivation techniques
Strengthening of State Seed Farms
Enhancing the production and productivity of the crops
Promotion of SRI – Distribution of Marker, transplanter and Cono weeder
Scaling up and transforming extension activities to share real time information
DAP spray for pulses
Exposure visit to farmers and officials to precision farming sites and
Integrated Farming system
Horticulture
Provision of net house structure for protected cultivation
Community Nursery for Vegetable Production
Package for plant protection
Bore well with casing pipe
Support system for banana, betelvine, etc.
Interstate exposure visit for farmers and officials
10 hec mega demo plot at district level and
Organizing District level farmers workshop
Agricultural Marketing and Agribusiness
Establishment of commodity groups for marketing
Facilitation of contract farming
Generation and dissemination of market intelligence
Strengthening of market extension centres
Organizing exposure visits to important markets and processing industries within the State and outside the State
Arrangement of buyers / sellers meet and
Training farmers and market intermediaries on post harvest handling of produce, food safety and traceability
Agricultural Engineering
Popularization of Agricultural machinery
Soil Conservation works
Water management / conservation works
Control of sea water intrusion and
Promoting the concept of mechanized village
Animal Husbandry and Fisheries
Feed and fodder development
Improvement of livestock health
Genetic upgradation
Strengthening of veterinary institutions
Disaster management
Capacity building of farmers
Processing facilities for value addition
Supply of fish seeds, fishing implements  etc.,
Infrastructure development and
Skill development for technical staff