Irrigation

After establishment of seedlings, irrigate at weekly intervals.
Manuring
Varieties

Basal dose : FYM 25 t/ha, NPK 75:100:50 kg / ha

Borax 10 kg and Zinc sulphate 50 kg / ha

Top dressing : 75 kg N/ha on 30th day of planting or during earthing up.

Hybrids

Apply fertilizer nutrients as per STCR-IPNS recommendation as given below.

Soil

:

Red Sandy loam (Palaviduthi series)
FN = 0.45 T- 0.63 SN- 0.72 ON
FP2O5 = 0.42 T- 4.18 SP- 0.73 OP
Target range

:

80 - 90 t ha-1
FK2O = 0.40 T- 0.48 SK- 0.66 OK
Initial Soil Test Values (kg ha-1)

NPK (kg ha-1) + FYM @ 12.5 t ha-1 + Azospirillum @ 2 kg ha-1 + PSB @ 2 kg ha-1

80 t ha-1

90 t ha-1

SN

SP

SK

FN

FP2O5

FK2O

FN

FP2O5

FK2O

200

14

200

179

245

189

224

287

229

220

16

220

166

237

179

211

279

219

240

18

240

154

229

170

199

271

210

260

20

260

141

220

160

186

262

200

280

22

280

129

212

151

174

254

191

Note: FN, FP2O5 and K2O are fertilizer N, P2O5 and K2O in kg ha-1, respectively; T is the yield target in q ha-1; SN, SP and SK respectively are available N, P and K in kg ha-1 and ON, OP and OK are the quantities of N, P and K supplied through organic manure in kg ha-1.

Apply entire P2O5 as basal, N in four equal splits (basal, 30, 45 and 60 days after planting), 2/5th of K2O as basal and remaining K2O in 3 equal splits at 30, 45 and 60 days after planting. If the above recommendation are not able to be followed, adopt blanket recommendation as follows

Basal dose : FYM 25 t/ha, NPK 50:250:100 kg/ha

Borax 10 kg/ha, Zinc sulphate 50 kg/ha and Copper sulphate 3.75 kg/ha

Top dressing : N and K each 150 kg/ha in 3 equal splits at 30, 45 and 60 days after planting.

Foliar spray : Foliar spray of ZnSO4 @ 0.5 per cent thrice at 10 days interval from 40 days after planting.
Spray 19:19:19 + Mn @ 1 % at 60 days after planting.
Boric acid @ 0.3% at flowering and 10 days later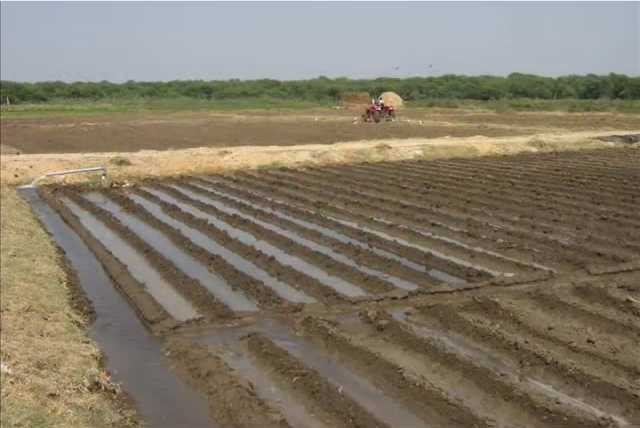 Surface irrigation in tomato field