Parched rice
It is prepared by throwing rice in sand heated to a high temperature in an iron or mud pan. On stirring, rice begins to crackle and swell. Then the content of the pan are removed and sieved to separate the parched rice from sand. Parboiled rice is used for making grayish to brilliant white colour parched rice and sold either salted or unsalted. It is eaten as such or mixed with butter milk or milk.
Expanded cereals
Expanded rice (Pori)
Expanded rice (murmura, pori, muri) is a traditional convenience food widely consumed in India either as such or with Jaggery, roasted Bengal gram and shredded vegetables and spices. The product is mostly produced in home or cottage sector by skilled artisans.
In the traditional process, the paddy is soaked in water preferably over night until saturation, drained and then either steamed or dry roasted in sand for parboiling. The parboiled paddy is milled, salted and again roasted in sand for expansion.
Flow chart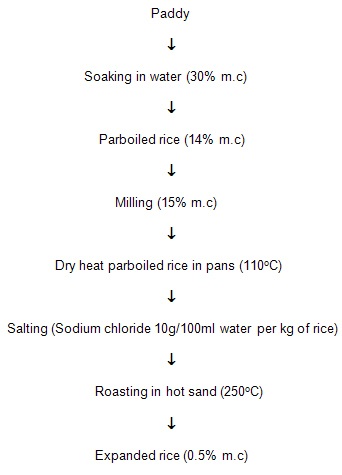 Puffed rice :- (using rice)
This popular ready-to-eat snack product is obtained by puffing milled parboiled rice. In the traditional process rice is gently heated on the furnace without sand to reduce the moisture content slightly. It is then mixed with salt solution and again roasted on furnace in small batches with sand on a strong fire for a few seconds to produce the expanded rice. Rice expands about 8 times retaining the grain shape and is highly porous and crisp.

Parched paddy or puffed rice:- (using paddy)
Sun dried paddy is filled in mud jars and is moistened with hot water. After 2-3 min. the water is decanted and the jars are kept in an inverted position for 8-10 hours. Next the paddy is exposed to the sun for a short time and then parched in hot sand as in the preparation of parched rice. Puffed rice is prepared by throwing pretreated paddy into sand heated to a high temperature in an iron pan. During parching the grain swell and burst into a soft white product. The parched grains are sieved to remove sand and winnowed to separate the husk.

Puffed rice from parboiled rice
The rice is soaked in salt water to increase the moisture to about 20%. The moist rice is introduced into a hot vessel at about 250-275 for 30-40 seconds. The rice puffs suddenly.

Popped rice
This is yet another traditional value added product prepared from raw paddy. The paddy at a moisture content of 12-14% is directly roasted in iron pans using sand as a medium at a temperature of 150-200. The production of popped rice is comparatively less and the product is mainly used in religious functions and ceremonies.

Flaked rice
is another important value added product prepared from paddy. Traditionally, it is prepared from soaked paddy, after heat treatment and immediate flattening using a flaking machine (an edge runner).
Flow Chart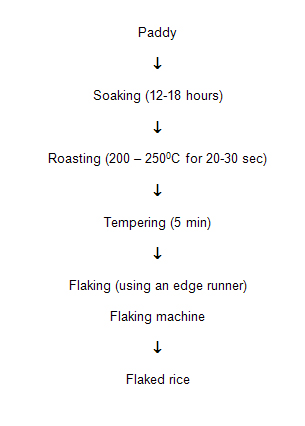 Flaked rice is made from parboiled rice. Paddy is soaked in water for 2 -3 days to soften the kernel followed by boiling water for a few minutes and the water is drained off. The paddy is heated in a shallow earthen vessel or sand in iron pan till the husks break open. It is pounded by a wooden pestle which flattens the kernel and removes the husk. The husk is separated by winnowing. Flaked rice is thin and papery and of white colour.
Quick cooking rice is made by steeping polished rice in water to a moisture content of 35 per cent, cooking under pressure and drying. Alternatively the rice may be subjected to freezing, thawing and dehydration.
Derived products
Polished rice may be precooked and canned as rice pudding and also used to make dry breakfast cereals.