Papaya
PAPAYA TUTTI FRUITY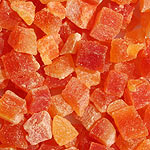 Ingredients
Mature unripe papaya
1 kg
Sugar              
¾ kg
Citric acid      
10 g
Essence colour
 
Method       
Harvest mature, sound raw papaya, make incisions and drain the papain extract.

Wash the fruit well, peel, remove the seeds and cut into small pieces.

Soak in 2 per cent brine containing one per cent calcium chloride for 30 minutes.

Drain, wash the papaya pieces and add equal quantities of sugar and boil for 5 minutes.

Let soak at room temperature for 4 hours, mix the required essence, colouring and citric acid.

Add more sugar to the above mixture and boil upto a sugar concentration of 70° Brix.

Drain the candied papaya pieces, spread on a tray and shade dry.

Pack in polyethylene bags, seal and store.
---
PAPAYA READY TO SERVE BEVERAGE (RTS)
Ingredients

Papaya            

 1 kg
Sugar              
 500 g
Citric acid      
 10 g
Water             
 2 lit
Preservative (KMS)
 ¼ tsp  
 Method
Wash the papaya fruits, peel, remove seeds, cut into small pieces and make to pulp.

To the water add the sugar and citric acid, mix well and boil for a few minutes and cool.

Strain the sugar syrup and mix with the papaya pulp and heat the juice upto 80°C.

Add the essence and preservative to the juice, and fill the juice into sterilized bottles and seal.

Further pasteurize the bottle at 80°C, cool, wipe dry and store.  
---
PAPAYA – PINEAPPLE RTS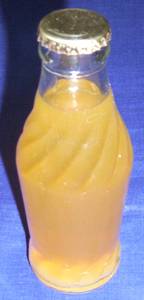 Ingredients

Fruit pulp 

1kg     
Sugar                  
475 g
Citric acid          
10 g
Water          
2.8 litre
KMS /SB
200 mg
Method
Wash and peel ripe papaya.

Scoop out the flesh and pulp it.

Mix sugar, water and citric acid, bring it to boil and filter.

Mix with the pulp. Heat it to 80ºC.

Bottle and crown cork.

Pasteurize in a water bath for 30 minutes.

Cool, label and store till use.
Note
200 ppm of sodium benzoate or KMS can be added for commercial and long storage.

Sterilized bottle should be used for bottling the juice.

 While pasteurizing sufficient cloth bedding should be given in between the bottles and the vessel so that they are not broken or cracked during processing.

To bring in variation, RTS can be prepared with papaya blended with other fruits. Fruits suitable for mixing with papaya are mango and pineapple.
---
PAPAYA PICKLE
Peeled papaya pieces 1 kg, salt 100 g, red chilli powder 10 g, cardamom (large), cumin, black pepper (powdered) each 10 g, vinegar 750 ml.
FLOW-CHART FOR PROCESSING OF PAPAYA PICKLE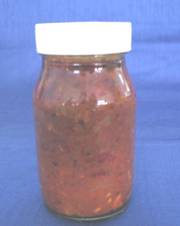 ---
PAPAYA JAM

Ingredients

Papaya pulp

 100 g
Sugar  
 75g
Citric acid
 a pinch
Method
Select a ripe fruit, peeled and pulping is done using mixie.

Addition of sugar, citric acid to the pulp and cooked to jam consistency.

Poured in sterilized bottles.
---
PAPAYA SQUASH
Ingredients
Papaya pulp    
 1kg
Sugar              
 1.80 kg
Water             
 1 litre
Citric acid      
 25 g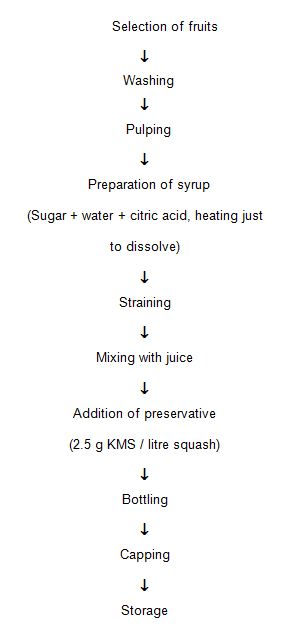 Technologies Available
*    - Post Harvest Technology Centre, TNAU, Coimbatore.
**  - Home Science College and Research Institute, TNAU, Madurai
Source

http://jimnote.blogspot.com/2008/03/
http://skytoseapetshop.com/images/dicedpapaya.jpg
http://www.sachikocooking.com/images/mp0885000.jpg