THERAPEUTIC BAEL FRUIT BEVERAGE
Bael is an important indigenous fruit of India.  It is one of the most therapeutic and nutritious fruits.  It has been known in India from pre-historic times.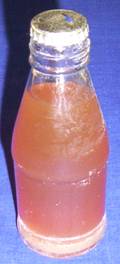 Ingredients
| | |
| --- | --- |
| Bael fruit pulp | 1.0 kg |
| Jaggery | 880 g |
| Water | 4100 ml |
| Citric acid | 18 g |
| Potassium metabisulphite | 2.8 g |




Method
Fully matured ripe fruits were washed, broken, pulp along with seeds and fibres was scooped.  Equal quantity of water was mixed with bael fruit pulp to extract the pulp.  Extracted pulp was heated at 80° C for one minute passed through hand pulper. The required amount of water and citric acid was dissolved in water by gentle heating, strained through muslin cloth and mixed thoroughly with bael fruit pulp.  The beverage were filled in sterilized bottles, capped, processed in boiling water at 80°C for 20 min.  The beverage were cooled quickly to room temperature, wiped, dry and stored in a cool dry environment.
---
BAEL TOFFEE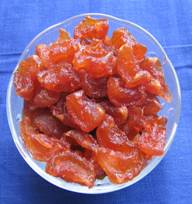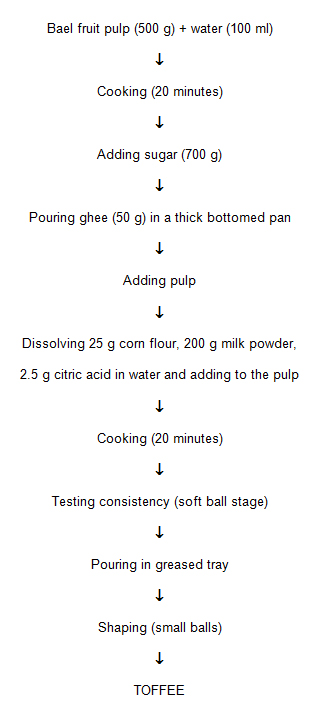 ---
PROCESSING OF CEREAL BAR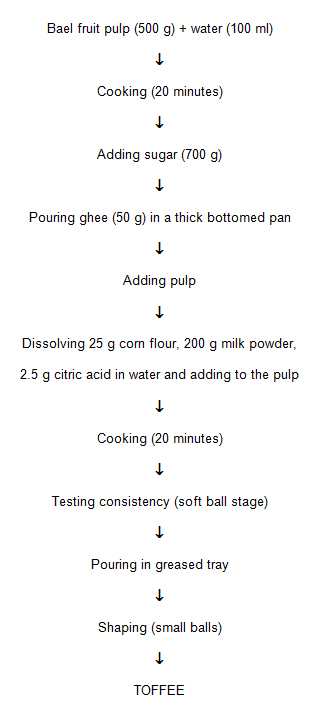 TECHNOLOGIES AVAILABLE

**  - Home Science College and Research Institute, TNAU, Madurai.