Nuts
Nuts are seeds or fruits consisting of an edible fat containing kernel and surrounded by a hard or a brittle shell. Nuts have rich flavour and have a great commercial importance. Nuts are an important ingredient in the chocolate and confectionery industry. They are compatible in dark or milk chocolate because of their low moisture content. Their flavour, particularly, if they are roasted, also combines well with chocolate and reduces sweetness.
Nuts ground to pastes or to small particles are used in such confections as marzipan, persipan, noisette, and praline pastes.
NUTRITIVE VALUE
Like pulses, oil seeds nuts are rich in protein and in addition they contain a high level of fat. Hence they are not only good sources of protein but are concentrated source of energy. They do not contain an appreciable amount of carbohydrate but contain high level of B-vitamins.
Food
Energy
K.cal
Protein
g.
Fat
g.
Carbo
hydrates
g.
Calcium
mg.
Iron
mg.
b-carotene
mcg
Thiamine
mg.
Ribo- flavin
mg.
Niacin
mg.
Almond
655
20.8
58.9
10.5
230
5.1
0
0.24
0.57
4.4
Cashewnut
596
21.2
46.9
22.3
50
5.8
60
0.63
0.19
1.2
Walnut
687
15.6
64.5
11.0
100
2.6
6
0.45
0.40
1.0
In India nuts like walnut, cashewnut, coconut, chestnut, almond are more commonly grown for edible oil purpose.
VARIETIES OF NUTS
ALMONDS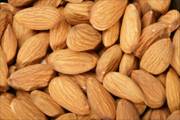 There are two types of almonds – sweet and bitter. Sweet almonds are used by the confectionery industry and for desserts and bitter almonds are used in small amounts for flavouring almond flours and pastes.
Almonds may be eaten raw or roasted. They may be blanched by immersion in boiling water; this losses the brown skins, which are easily removed by squeezing the nuts between rubber rollers or bands. Blanched almonds can be used for decoration after drying or light roasting but more often are ground by being passed through rollers for the manufacture of almond paste or marzipan. The blanching process is also essential for the destruction of enzymes and microorganisms when the nuts are subsequently processed to confectionery pastes.
Almonds are an ingredient of toffee "brittles" when they are roasted in high boiled syrups. The brittles may be ground to a paste called praline rougat, and this paste becomes an ingredient of other confections such as truffles and noisette.
BRAZIL NUTS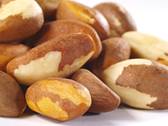 Brazil nuts are a tropical nut greatly favoured for dessert purposes and very popular as an ingredient in chocolate bars and blocks, both as a whole nut and chopped. The smaller Brazil nuts are covered in chocolate by enrobing or panning for use in chocolate assortments (Native of Brazil).
CASHEW NUTS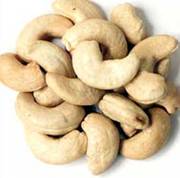 The shell of the nut is really a tough skin and contains a juice that causes skin blisters. Roasting destroys the blistering compound and the nuts can then be opened by hand cracking.  Roasting improves the flavour. This operation used to be carried out by the pickers who heated a few pounds at a time in a pan over an open fire, but mechanical roasters are now established in the larger factories.
The nuts have a soft, mealy texture and have gained greatly in popularity as salted nuts, but their use in confectionery has so far been confined to nut pastes and pralines.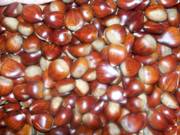 CHESTNUTS  
Chestnuts, very popular in some countries, have found very little application in the confectionery industry except for marrons glaces. These are made by heating the chestnuts in syrups of gradually increasing concentration until they are thoroughly impregnated when they can be packed attractively and will keep as well as any other sweet.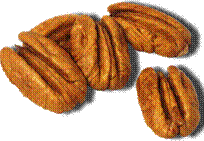 PECANS
The pecan, which resembles the walnut in appearance, is essentially American, and large quantities of the nut are consumed in the United States. Pecans are popular with vegetarians, and also are used in confectionery, mainly for topping chocolate and cakes.
PISTACHIO NUTS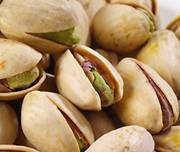 Pistachios are probably better known for their appearance than for their eating qualities. They are pale green throughout and are attractive as toppings or may be included in nougat where, with cherries and citrus peel, they make a colourful candy. They are also an ingredient of the original Turkish delight. In India, the nut is regarded as a delicacy and many dishes are prepared from it.
WALNUTS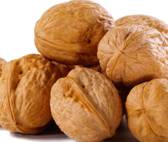 The gathered nuts are washed, cured and dried (artificial drying 38-43oC).  The fresh kernel has a bitter skin but this bitterness disappears with keeping. The mechanical methods of cracking, and the cleaning and sorting of the kernels, are complicated because of their intricate shape, and 3 basic grades of walnut come on to the market- halves, quarters and pieces. Halves are used for decoration of the tops of assortment chocolates, walnut whirls, and cakes; quarters can be used in confectionery centers and cakes; pieces are used for inclusion in chocolate blocks, cakes and caramels.  
FORMS OF NUTS USED IN COOKERY
For kitchen use the following types of prepared nuts are available
Ground- almonds
Nibbed – almonds, peanuts for decorating iced dishes, pastry goods 
Flaked- almonds for decoration cakes and pastries halwa. 
Halved- almond, walnuts for salads, in cakes, decorating cakes. 
Whole- almonds, hazelnuts for decorating cakes and pastries. 
Desiccated- coconut for flavoring cakes, decorating cakes curries. 
Essence – almond for flavouring cakes and fillings.
ROLE OF NUTS IN COOKERY
Nuts are used fresh, raw, roasted or boiled or salted forms and also fried forms.
Nuts are used as thickening agents. Coconut, poppy seeds and cashewnut are used as thickening agents in the preparation of gravy.
Chutneys can be made and used from nuts, e.g. groundnut and coconut.
Sweets are made from nuts, e.g. chikki, burfi, kozhukattai, cashewnut cake.
Oil is used as cooking media for frying and seasoning. Oil is also used as preservative in pickles.
Powders made out of nuts like groundnut and coconut are used as chutneys and salad dressing.
Nuts are also used in ice creams, cakes, pastries, payasam and chocolate.
Nuts are also used in beverages, e.g. badam kheer.
Nuts are used as garnishing material-raw, roasted, salted or boiled forms.
Source
http://bulkecandy.com/images/bk_nuts_almond.jpg

www.nutsonline.com/.../raw-noshell.html

www.gtsoverseas.com/agricultural-products.html

everydayfood365.blogspot.com/.../chestnuts.html

http://pecanvalleypecans.com/Graphics/Fancy-Pawnee-Pecan-Halves.gif

http://www.nutsonline.com/images/items/g83.jpg

https://ssl9.chi.us.securedata.net/walnuts%20in%20shell.jpg