DISEASES AND NEMATODES OF MULBERRY
Sl. No

Disease

Causal organism

1

Leaf spot

Cercospora moricola

2

Powdery mildew

Phyllactinia corylea

3

Root rot

Macrophomina phaseolina
Fusarium solani .oxysporum

4

Root knot nematode

Meloidogyne incognita
1. Leaf spot
Symptoms
Brownish circular or irregular leaf spots in the initial stage, enlarge, coalesce and form shot holes in later stage
Severely affected leaves become yellowish and fall off prematurely
Management
Spraying carbendazim @ 500-625 g/ha
2. Powdery mildew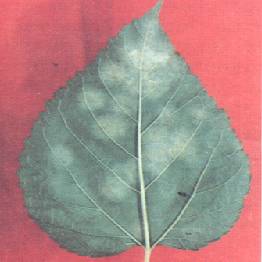 Symptoms
Initially, white powdery patches on lower surface of leaves are seen which later cover the entire leaf surface.
Later turn black to brown in colour.
Infected leaves turn yellow and fall off.
High humidity (>70%) and low temperature (24-26oC) favour outbreak of the disease.
Management
Providing wider spacing
Growing resistant varieties like MR1, MR2 and China White
Spraying Carbendazim @ 500-625 g/ha
Releasing yellow lady bird beetles and white spotted lady bird beetles, since they feed on the mildew fungus.
3. Root rot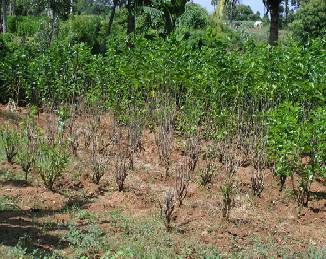 Symptoms
Occurrence mostly seen in summer
Initial stage, leaf blade turn to wilt and then spread to entire plant
Later stage, black fungus are appear on branches and stem
Spread through soil and water
Management
Application of farm yard manure @20tonnes as basal
At root surface pour copper oxy chloride( 2gm/lit of water)
Prevent the spread of disease to other healthy plant by basin irrigation
Uproot the died plants
Application of Trichoderma viride @ 25gm/plant
Application of Bacillus substilis @ 25gm/plant at the time of planting or pruning
4. Root knot nematode
Symptoms
Growth and yield of plants affected.
Stunted plants, marginal necrosis and yellowing of leaves, necrotic lesions on the root surface.
Formation of characteristic knots or galls on the roots.
Wilting of plants.
Management
Deep ploughing in summer
Applying neem cake @ 1000 kg/ha
Applying Carbofuran 3G @ 30 kg/ha/year in four split doses
(safe period is 50 days).