WHEAT
Wheat is used principally for human consumption. It is converted into flour for the production of bread and other bakery products. It is used as "chapatti" (unleavened pan baked bread) in India. Wheat belongs to the genus Triticum and there are over 30,000 species and varieties. The principal wheats of commerce are the common or bread wheat (T.aestivum); macaroni wheat (T.durum) and club wheat (T.compactum).
Wheat types: Wheat types may also be classified as hard or soft, and as strong or weak.
'Strong' wheats produce large loaf volume, good crumb structure and good keeping qualities. Such wheats have a high protein content. Hard wheats are thus employed for the production of flour for making bread.
'Weak' wheats have a low protein content and form only a small loaf with coarse crumb structure. The flours of weak wheats are good for biscuits and cakes, although unsuitable for bread-making.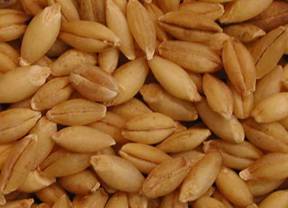 Carbohydrates: Amongst carbohydrates of wheat, practically all of the starch is in the endosperm, while the soluble sugars are costly found in the germ. The carbohydrates of bran are largely cellulose and hemi cellulose.
Minerals: Wheat is a good source of mineral nutrients. It contains a significant amount of iron, phosphorus, magnesium, manganese, copper and zinc. Whole wheat is a good source of thiamine and nicotinic acid, but is relatively poor in riboflavin.
Protein: The proteins of wheat may be divided into two major groups-the non-gluten protein albumins and globulins, and gluten proteins (mainly gliadins, glutenins and insoluble residual proteins. Wheat proteins are rich in glutamic acid and low in tryptophan. Glutamic acid and aspartic acid are present in the amide form as glutamine and asparagine. The high concentration of amide is important in determining the characteristic of the gluten. The bran and germ proteins have a higher content of essential amino acids than the inner endosperm proteins. Thus the biological value of endosperm proteins is much less than that of the whole wheat protein.
Lipids: The wheat germ oil is produced commercially and it is rich in vitamin E. The oil is also rich in essential fatty acids.
Percentage composition of nutrients in different parts of Wheat Kernel
| | | | |
| --- | --- | --- | --- |
| Nutrients | Endosperm | Bran | Germ |
| Protein | 70-75 | 19.0 | 8.0 |
| Thiamine | 3.0 | 33.0 | 64.0 |
| Riboflavin | 32.0 | 42.0 | 26.0 |
| Niacin | 12.0 | 86.0 | 2.0 |
| Pyridoxine | 6.0 | 73.0 | 21.0 |
| Pantothenic acid | 43.0 | 50.0 | 7.0 |
NUTRITIVE VALUE OF WHEAT
Food
Energy 
K.cal
Protein
g
Fat
g
Carbohydrates
g
Calcium
mg
Iron
mg
Carotene
mcg
Thiamine 
mg
Riboflavin
mg
Niacin
mg

Wheat Flour 
(Whole)

341

12.1

1.7

69.4

48

4.9

29

0.49

0.17

4.3

Wheat Flour (refined)

348

11.0

0.9

73.9

23

2.7

25

0.12

0.07

2.4

Wheat Bread
(White)

245

7.8

0.7

51.9

11

1.1

-

0.07

-

0.7

Wheat Bread
(White)

245

7.8

0.7

51.9

11

1.1

-

0.07

-

0.7
Wheat provides in addition to energy (calories), considerable quantities (20 percent) of the human requirements of proteins, B-vitamins, calcium and iron. Whole wheat are nutritionally superior to refined grains, richer in dietary fiber, antioxidants, protein,  minerals (including magnesium, manganese, phosphorus, and selenium), and vitamins(including niacin, vitamin B6, and vitamin E). The greater amount of dietary fiber helps to reduce the incidence ofcancer, digestive system diseases, gum disease, coronary heart disease, diabetes, and obesity. The higher fiber content also results in a modest caloric reduction in whole grain foods. Some of these protective effects occur because carbohydrates from whole grains are digested and enter the bloodstream more slowly (as measured by the glycaemic index).
MILLING OF WHEAT
Wheat is consumed mostly in the form of flour obtained by milling the grain while a small quantity is converted into breakfast foods, such as wheat flakes, puffed wheat and shredded wheat.
The traditional procedure for milling wheat in India has been stone grinding (chakki) to obtain whole meal flour (atta). This method results in a 90-95 per cent extraction rate flour which retains almost all the nutrients of the grain while simultaneously eliminating that part of the grain which is most indigestible like cellulose, and physic acid which binds and carries away minerals.
In modern milling, wheat is first subjected to cleaning to remove various types of impurities together with damaged, shrunken and broken kernels which are collectively known as ;screenings'. Impurities that adhere to the grain are removed by washing or by dry scouring which loosens the impurities which are then blown away by an air current. Next, the cleaned wheat is subjected to conditioning.
Finally, the cleaned and conditioned wheat is subjected to milling to separate the endosperm from the bran and germ, and to reduce the endosperm to flour fineness to obtain the maximum extraction of white flour from the wheat. The reduced endosperm is known as flour (white flour) and the germ, bran and residual endosperm obtained as by-products are used primarily in animal feeding.
BY PRODUCTS OF WHEAT
Whole wheat flour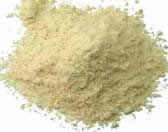 The bran and germ are separated in making white flour or maida. Maida bakes more uniformly into a loaf of a greater volume and it is more bland in taste and more easily digested. It can be stored in an airtight container in the refrigerator.
Maida
It contains the finely ground bran, germ and endosperm of the whole kernel. Whole wheat products have a distinctive flavour and coarser texture than those made from white flour. Because of the higher fat content of the germ, whole wheat flour is more difficult to keep and sometimes becomes rancid in storage under poor conditions.
Semolina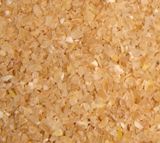 It is coarsely ground endosperm and its chemical composition is similar to that of white flour. It is used in the manufacture of macaroni products. It is roasted before storing to save it from insets and worms.
Wheat bran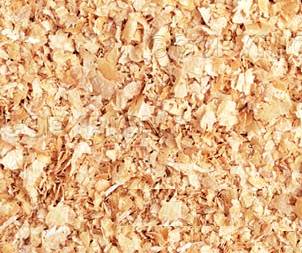 It increases the stool weight by increasing the water holding capacity of the bran. Wheat bran prevents constipation and may lower the risk of colon cancer
Glutamic acid: It is derived from wheat. A familiar compound of glutamic acid is "mono sodium glutamate", a salt like product generally available and used to bring out the flavour of other foods or seasonings.
Source
www.indiaagronet.com
http://www.purcellmountainfarms.com/Hard%20Red%20Wheat%20Grain%20crop%20039.jpg